Belgium 3-0 Russia: Romelu Lukaku pays tribute to Inter Milan team-mate Christian Eriksen
4 min read
Uefa Euro 2020 on the BBC
Dates: 11 June-11 July. Venues: Amsterdam, Baku, Bucharest, Budapest, Copenhagen, Glasgow, London, Munich, Rome, Seville, St Petersburg. Coverage: Live on BBC TV, BBC Radio 5 Live, iPlayer and the BBC Sport website and app. Click here for more details
Romelu Lukaku paid tribute to his Inter Milan team-mate Christian Eriksen after scoring against Russia to help world number one side Belgium start Euro 2020 with a win.
Denmark midfielder Eriksen collapsed on the pitch earlier on Saturday in the Group B game with Finland and received emergency treatment on the field.
There was some doubt as to whether Belgium's game with Russia – Denmark's group rivals – in St Petersburg would go ahead as scheduled because of events in Copenhagen before it was given the all-clear after the Danish Football Association revealed Eriksen was "awake" in hospital.
Lukaku opened the scoring after pouncing on a mistake by Andrey Semenov and celebrated his goal by shouting "Chris, Chris, I love you" in front of a television camera.
After the game, the former Manchester United forward said he cried when he heard what had happened to Eriksen.
"I was scared. You live strong moments together," he told ITV. "I spent more time with him than with my family.
"It was difficult to play the game. I hope he is healthy and I dedicate this performance to him."
After Lukaku's opener, Roberto Martinez's side added a second before half-time after substitute Thomas Meunier – an early replacement for injured Leicester defender Timothy Castagne – slotted home when Anton Shunin failed to hold a cross.
In-form Lukaku sealed a comfortable win by scoring his team's third goal with a composed finish in the closing stages.
The victory put Belgium, one of the fancied teams at Euro 2020, top of the group, level on points with Finland, who beat Denmark in a game which was suspended following Eriksen's collapse before being re-started.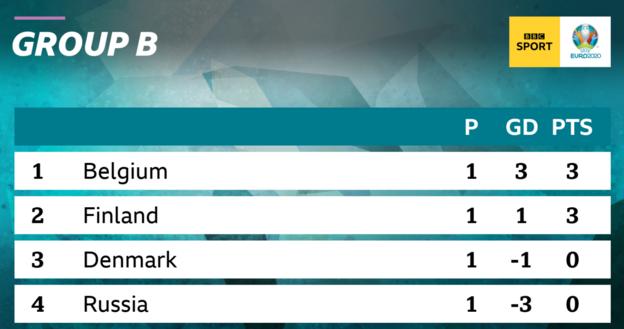 Relive the action from St Petersburg, plus reactionInjured De Bruyne out of Belgium openerHow can I watch Euro 2020 matches?
Red Devils make fast start
With a number of Eriksen's current and former team-mates in the Belgium side, Martinez was concerned about the impact events in Denmark had on his players.
As well as Lukaku, who along with Eriksen helped Inter Milan win Serie A in 2020-21 for the first time since 2009-10, Belgium's side included the midfielder's former Tottenham team-mates Toby Alderweireld and Jan Vertonghen.
Speaking to ITV before the match, the former Everton boss said: "It was a real shock. We have team-mates in that dressing and players who have shared a lot of time with Eriksen.
"We hope he has a full speed of recovery."
To their credit, Belgium silenced the home fans in the 26,264 crowd in St Petersburg with a thoroughly professional performance.
Without Kevin de Bruyne, still nursing a fractured nose and eye socket he suffered in Manchester City's Champions League final defeat against Chelsea, the Red Devils controlled the match.
It remains to be seen whether they possess the steel required to win a major tournament for the first time.
But having scored 40 goals in qualifying – more than any other side – Belgium started this tournament in style as Lukaku continued the form which saw him score 24 to help fire Inter to the title.
There was even an a substitute appearance by Eden Hazard but tougher tests lie ahead which will prove whether they are a side approaching the peak of its powers.
What's next?
Russia are back in Group B action in St Petersburg on Wednesday when Finland are the visitors (14:00 BST), while Belgium head to Copenhagen to face Denmark on Thursday (17:00 BST).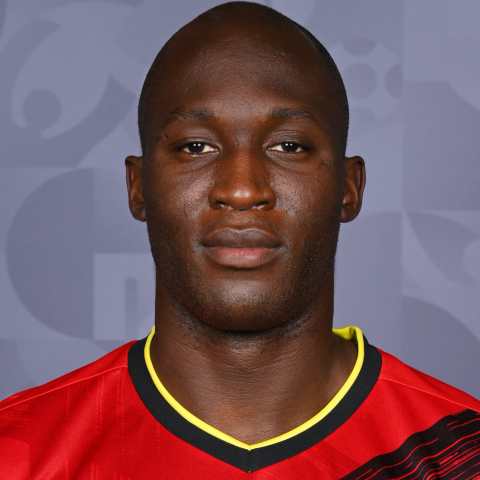 Player of the match
LukakuRomelu Lukaku
with an average of 8.63BelgiumBelgiumBelgiumRussiaRussiaRussia
Belgium
Squad number9Player nameLukakuAverage rating

8.63

Squad number15Player nameMeunierAverage rating

7.49

Squad number8Player nameTielemansAverage rating

7.40

Squad number11Player nameCarrascoAverage rating

7.24

Squad number2Player nameAlderweireldAverage rating

7.08

Squad number14Player nameMertensAverage rating

7.02

Squad number16Player nameT HazardAverage rating

6.88

Squad number5Player nameVertonghenAverage rating

6.83

Squad number19Player nameDendonckerAverage rating

6.82

Squad number4Player nameBoyataAverage rating

6.68

Squad number21Player nameCastagneAverage rating

6.62

Squad number1Player nameCourtoisAverage rating

6.61

Squad number10Player nameE HazardAverage rating

6.54

Squad number26Player namePraetAverage rating

6.54

Squad number3Player nameVermaelenAverage rating

6.44
Russia
Squad number15Player nameAl MiranchukAverage rating

5.41

Squad number17Player nameGolovinAverage rating

4.96

Squad number6Player nameCheryshevAverage rating

4.96

Squad number22Player nameDzyubaAverage rating

4.92

Squad number3Player nameDiveevAverage rating

4.88

Squad number4Player nameKaravaevAverage rating

4.76

Squad number26Player nameMukhinAverage rating

4.70

Squad number18Player nameZhirkovAverage rating

4.60

Squad number2Player nameMario FernandesAverage rating

4.55

Squad number14Player nameDzhikiyaAverage rating

4.48

Squad number23Player nameKuzyaevAverage rating

4.45

Squad number8Player nameBarinovAverage rating

4.44

Squad number7Player nameOzdoevAverage rating

4.40

Squad number11Player nameZobninAverage rating

4.38

Squad number1Player nameShuninAverage rating

4.38

Squad number5Player nameSemenovAverage rating

4.23
Line-upsMatch StatsLive Text
Line-ups
Belgium
Formation 3-4-3
1Courtois2Alderweireld4Boyata5Vertonghen21Castagne19Dendoncker8Tielemans16T Hazard14Mertens9Lukaku11Carrasco1Courtois2Alderweireld4Boyata5VertonghenSubstituted forVermaelenat 77'minutes21CastagneSubstituted forMeunierat 27'minutes19Dendoncker8Tielemans16T Hazard14MertensSubstituted forE Hazardat 72'minutes9Lukaku11CarrascoSubstituted forPraetat 77'minutes
Substitutes
3Vermaelen10E Hazard12Mignolet13Sels15Meunier18Denayer20Benteke22Chadli23Batshuayi24Trossard25Doku26Praet
Russia
Formation 4-2-3-1
1Shunin2Figueira Fernandes5Semenov14Dzhikiya18Zhirkov8Barinov7Ozdoev11Zobnin17Golovin23Kuzyaev22Dzyuba1Shunin2Figueira Fernandes5Semenov14Dzhikiya18ZhirkovSubstituted forKaravaevat 43'minutes8BarinovSubstituted forDiveevat 45'minutes7Ozdoev11ZobninSubstituted forMukhinat 63'minutes17Golovin23KuzyaevSubstituted forCheryshevat 29'minutesSubstituted forAl Miranchukat 63'minutes22Dzyuba
Substitutes
3Diveev4Karavaev6Cheryshev9Sobolev10Zabolotny12Dyupin15Al Miranchuk16Safonov19Zhemaletdinov20Ionov24Evgeniev26MukhinReferee:Antonio Miguel Mateu LahozAttendance:26,264
Match Stats
Home TeamBelgiumAway TeamRussiaPossessionHome66%Away34%ShotsHome9Away5Shots on TargetHome4Away1CornersHome2Away4FoulsHome9Away11
Live Text
Post update

Match ends, Belgium 3, Russia 0.