Carl Frampton's world title fight with Jamel Herring postponed because of hand injury
2 min read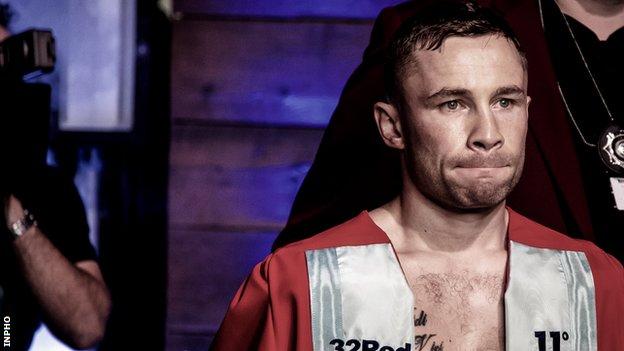 Frampton fought once last year, stopping Darren Traynor in August
Carl Frampton's WBO world super-featherweight bout with Jamel Herring has been postponed because of a hand injury sustained by the Belfast fighter.
The Northern Irishman's attempt to become a three-weight world champion was set for 27 February in London.
While no replacement date has been announced, it is understood that the end of March is the preferred option.
Frampton requested the postponement having received medical advice.
Frampton coy on future after Herring title fightFrampton determined to overcome Herring in world title fight
The Belfast man had surgery on both his hands after beating Tyler McCreary in December 2019.
"It is just a bit of a twinge in my hand, nothing too serious but I have seen a specialist and his advice was to rest it," said Frampton.
"So I asked about the possibility of a postponement to the fight and it was agreed to.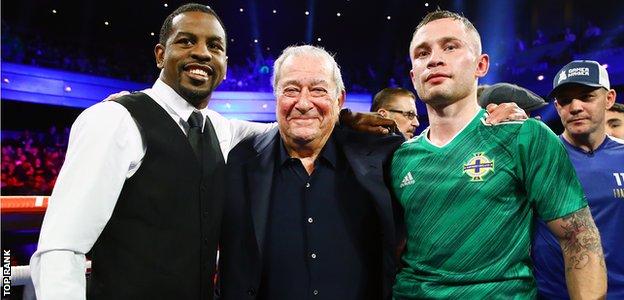 Plans for Frampton and Herring to meet last summer were scuppered by the pandemic
"It gives me a better chance because I will be going into the fight with two good hands after taking the advice from the specialist. It is nothing major though and there is no fracture.
"I haven't been able to spar or hit the heavy bags for a while. From next week, I have been given the go-ahead to start doing that again. I have still been training, doing loads of running, shadow boxing and hitting the paddles as well, which kind of replicates the pads, but I have not hit anything solid for the last two weeks.
"It wouldn't have sat right with me to pull out if people had spent their hard earned money on tickets and travel, but this is completely different and I just want to give myself the best opportunity to win and that is it."
Long-awaited bout delayed once more
The behind-closed-doors fight was originally scheduled to take place in the middle of 2020 before being delayed because of the Covid-19 outbreak.
Frampton, 33, stopped Darren Traynor in an interim fight in August, his only bout of 2020. American fighter Herring overcame Jonathan Oquendo after a disqualification in Las Vegas.
The Belfast boxer became world champion at super-bantamweight in September 2014 when he defeated Kiko Martinez at the Titanic Quarter and became a two-weight world champion in the first of two featherweight encounters with Leo Santa Cruz in the USA two years later.
In August 2017, Frampton's bout with Andres Gutierrez was called off after the Mexican slipped in the shower. The Jackal was forced to pull out of his bout with Emmanuel Dominguez in August 2019 after a large concrete ornament in a hotel lobby accidentally struck his left hand and fractured his metacarpal.