England v Denmark – how you rated the players
2 min read
It was joy for England on Wednesday night as they saw off Denmark at a delirious Wembley Stadium to reach their first major men's final since 1966.
But it was Denmark's goalkeeper Kasper Schmeichel who was chosen as your player of the match, with a rating of 8.03 after a series of top saves.
Raheem Sterling was England's top-rated player with 7.51, while Kyle Walker and Harry Kane achieved 6.88.
Reaction as England reach Euro 2020 final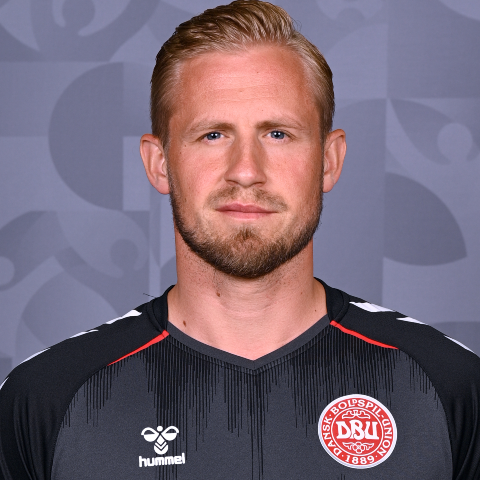 Player of the match
SchmeichelKasper Schmeichel
with an average of 8.03EnglandEnglandEnglandDenmarkDenmarkDenmark
England
Squad number10Player nameSterlingAverage rating

7.51

Squad number9Player nameKaneAverage rating

6.88

Squad number2Player nameWalkerAverage rating

6.88

Squad number3Player nameShawAverage rating

6.79

Squad number6Player nameMaguireAverage rating

6.72

Squad number14Player namePhillipsAverage rating

6.60

Squad number25Player nameSakaAverage rating

6.53

Squad number7Player nameGrealishAverage rating

6.46

Squad number20Player nameFodenAverage rating

6.37

Squad number8Player nameHendersonAverage rating

6.33

Squad number5Player nameStonesAverage rating

6.33

Squad number4Player nameRiceAverage rating

6.28

Squad number19Player nameMountAverage rating

6.24

Squad number12Player nameTrippierAverage rating

5.91

Squad number1Player namePickfordAverage rating

5.59
Denmark
Squad number1Player nameSchmeichelAverage rating

8.03

Squad number14Player nameDamsgaardAverage rating

6.98

Squad number6Player nameChristensenAverage rating

6.34

Squad number12Player nameDolbergAverage rating

6.25

Squad number3Player nameVestergaardAverage rating

6.21

Squad number23Player nameHøjbjergAverage rating

6.20

Squad number4Player nameKjaerAverage rating

6.18

Squad number9Player nameBraithwaiteAverage rating

6.15

Squad number8Player nameDelaneyAverage rating

6.01

Squad number5Player nameMaehleAverage rating

5.92

Squad number17Player nameStryger LarsenAverage rating

5.88

Squad number2Player nameAndersenAverage rating

5.80

Squad number15Player nameNørgaardAverage rating

5.75

Squad number20Player namePoulsenAverage rating

5.71

Squad number18Player nameWassAverage rating

5.61

Squad number24Player nameJensenAverage rating

5.56

Squad number19Player nameWindAverage rating

5.51