Euro 2020: Scotland 0-2 Czech Republic – Patrik Schick double downs Steve Clarke's side
5 min read
Scotland's first match at a men's major finals in 23 years ended in anguish after Patrik Schick's incredible halfway-line goal helped the Czech Republic inflict a deflating opening Euro 2020 defeat at Hampden.
Schick's goal, which added to his headed first-half opener, punctured a carnival atmosphere with a sharp dose of reality for Steve Clarke's side.
Around 9,000 fans witnessed the Scots strike the bar amid a glut of chances, but a first foray beyond the group stage already looks a tough ask.
Scotland now go to Wembley on Friday with a heightened need for a positive result against a buoyant England, before their group campaign comes to a close against Croatia in Glasgow four days later.
Missed chances cost Scots – RobertsonReaction & as it happenedMeet the Scotland squad
It was a day a generation of fans thought they would never see again. For those in their early 20s and younger, the sight of Scotland on a stage such as this was embraced for the first time.
While the revelry in the build-up lasted for hours as supporters trickled into Hampden, a nervous tension was palpable throughout the place. There are some things some Euro 2020 branding just cannot hide.
From videos of the team bus arriving, to the news that Kieran Tierney was out injured, nerves were jangling everywhere.
A blistering start from the Scots served to steady the ship amid a cacophony that defied the quarter-full national stadium.
Scotland rampaged out the blocks. John McGinn's early snapshot triggered a roar from the crowd, every booming run and cross from Andy Robertson had the crowd on their feet.
But, slowly, as the Scots were forced back, the nervousness and Czech confidence grew. David Marshall was forced into an early save. A warning shot of what was to come.
Clarke's side roared back with courage and belief befitting a team who had held their nerve in two shootouts to get here.
Robertson again owned the left with a run and cross; Dykes should have done better with a first-time effort; and Robertson was denied by the fingertips of Tomas Vaclik, triggering thunder in the stands.
But as the game looked destined for a stalemate at half-time, the hammer blow arrived. A corner was just about cleared, only for the Scots to switch off.
Vladimir Coufal overlapped with space and time on his side, his delivery being met by Schick, who steered his header home while sandwiched between Liam Cooper and Grant Hanley.
Che Adams was introduced at half-time and he made a difference, but not before Marshall twice saved Scotland just seconds after the restart.
Scotland rallied again. A floated effort from Jack Hendry hit the top of the bar as Hampden gasped. They did so again as a misplaced Tomas Kalas clearance looped over Vaclik, who just recovered to clear.
If only Marshall could have done likewise three minutes later. Hendry's attempted drive was charged down with Scotland exposed badly.
The ball broke to Schick on the halfway line, and the Bayer Leverkusen man did not even look up as his astonishing arching shot arrowed over Marshall. Hampden was so silent the noise of the ball hitting the net could be heard.
The hosts came again and again in the search of a lifeline. An Armstrong effort looped just over, while Dykes twice went close.
Twenty three years of pain are over. A new feeling of angst is just settling in.
Change in the wind for Wembley?
Undoubtedly, the news of Tierney's "niggle" and subsequent absence had a huge impact. Of all the selection conundrums, his involvement was not even considered in doubt.
Clarke was undoubtedly made to change things and for spells, the Czechs bossed the game. Scotland's midfield was nullified, Dykes struggled to hold the ball up while, barring a small handful of forays by Robertson, there was a distinct lack of width from the Scots.
The introduction of Adams made a colossal difference, and he is surely in line to start on Friday. Will this result bring more changes both in system and personnel?
Adams, Ryan Fraser and James Forrest brought a dynamism that was missing before half-time. Clarke now has a host of decisions to make in what could be a make-or-break night in London.
Match stats
This was the Czechs first win against Scotland since October 2010, ending a run of one draw and three defeats.Scotland have lost their opening match in five of their last six appearances at a major tournament, failing to score on five occasions in that run.Scotland have failed to score in five of their seven Euros matches, with the exceptions being a 3-0 win over CIS (1992) and a 1-0 win against Switzerland (1996).There were just 12 fouls conceded in this match (six each), the lowest total on record at the Euros since 1980.Schick has been involved in 10 goals in his last nine international starts (8 goals, 2 assists).At 49.7 yards, Schick's second was the furthest distance from which a goal has been scored at the Euros since 1980.At 36 years and 101 days, goalkeeper Marshall became the second oldest player to appear for Scotland at a major tournament, after 39-year-old Jim Leighton played in all three games at the 1998 World Cup.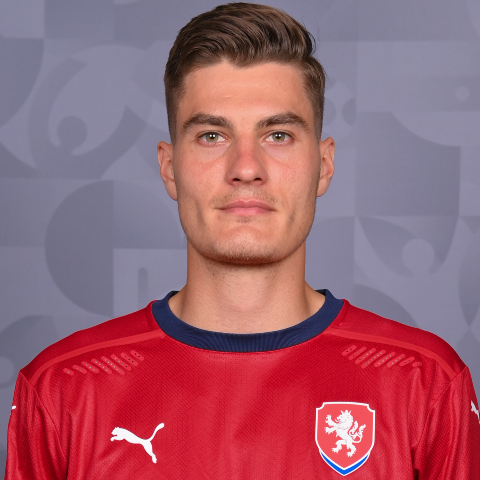 Player of the match
SchickPatrik Schick
with an average of 8.66ScotlandScotlandScotlandCzech RepCzech RepublicCzech Republic
Scotland
Squad number3Player nameRobertsonAverage rating

5.81

Squad number10Player nameAdamsAverage rating

5.20

Squad number7Player nameMcGinnAverage rating

4.70

Squad number4Player nameMcTominayAverage rating

4.47

Squad number16Player nameCooperAverage rating

4.43

Squad number25Player nameForrestAverage rating

4.37

Squad number5Player nameHanleyAverage rating

4.37

Squad number17Player nameArmstrongAverage rating

4.30

Squad number1Player nameMarshallAverage rating

4.26

Squad number19Player nameNisbetAverage rating

3.90

Squad number24Player nameHendryAverage rating

3.80

Squad number9Player nameDykesAverage rating

3.75

Squad number20Player nameFraserAverage rating

3.72

Squad number11Player nameChristieAverage rating

3.60

Squad number8Player nameMcGregorAverage rating

3.43

Squad number2Player nameO'DonnellAverage rating

3.27
Czech Republic
Squad number10Player nameSchickAverage rating

8.66

Squad number1Player nameVaclikAverage rating

7.52

Squad number15Player nameSoucekAverage rating

7.37

Squad number5Player nameCoufalAverage rating

7.29

Squad number6Player nameKalasAverage rating

6.72

Squad number8Player nameDaridaAverage rating

6.70

Squad number14Player nameJanktoAverage rating

6.67

Squad number12Player nameMasopustAverage rating

6.64

Squad number21Player nameKralAverage rating

6.60

Squad number3Player nameCelustkaAverage rating

6.58

Squad number18Player nameBorilAverage rating

6.55

Squad number9Player nameHolesAverage rating

6.34

Squad number19Player nameHlozekAverage rating

6.34

Squad number11Player nameKrmencikAverage rating

6.26

Squad number20Player nameVydraAverage rating

6.24

Squad number13Player nameSevcikAverage rating

6.23
Line-upsMatch StatsLive Text
Line-ups
Scotland
Formation 3-5-2
1Marshall24Hendry5Hanley16Cooper2O'Donnell7McGinn4McTominay17Armstrong3Robertson9Dykes11Christie1Marshall24HendrySubstituted forMcGregorat 67'minutes5Hanley16Cooper2O'DonnellSubstituted forForrestat 79'minutes7McGinn4McTominay17ArmstrongSubstituted forFraserat 67'minutes3Robertson9DykesSubstituted forNisbetat 79'minutes11ChristieSubstituted forAdamsat 45'minutes
Substitutes
8McGregor10Adams12Gordon13Taylor18Turnbull19Nisbet20Fraser21McLaughlin22Patterson23Gilmour25Forrest26McKenna
Czech Rep
Formation 4-2-3-1
1Vaclik5Coufal3Celustka6Kalas18Boril21Kral15Soucek12Masopust8Darida14Jankto10Schick1Vaclik5Coufal3Celustka6Kalas18Boril21KralSubstituted forHolesat 67'minutes15Soucek12MasopustSubstituted forVydraat 72'minutes8DaridaSubstituted forSevcikat 87'minutes14JanktoSubstituted forHlozekat 72'minutes10SchickSubstituted forKrmencikat 87'minutes
Substitutes
2Kaderábek4Brabec7Barak9Holes11Krmencik13Sevcik16Mandous17Zima19Hlozek20Vydra24PekhartReferee:Daniel SiebertAttendance:9,847
Match Stats
Home TeamScotlandAway TeamCzech RepPossessionHome58%Away42%ShotsHome19Away10Shots on TargetHome4Away7CornersHome6Away6FoulsHome6Away6
Live Text
Post update

Match ends, Scotland 0, Czech Republic 2.