F1 testing: Could 2021 see Red Bull challenge Mercedes?
15 min read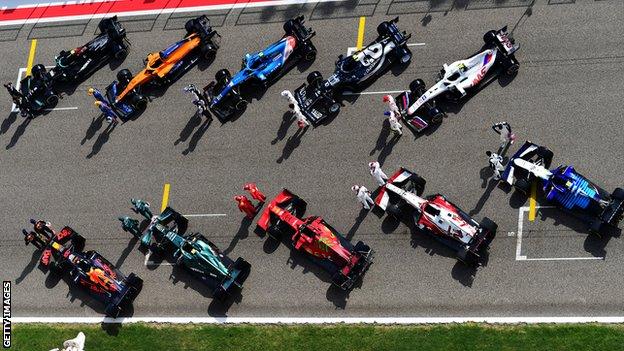 F1 teams are required to carry over large parts of their car designs from 2020
After a truncated pre-season testing programme, cut in half by the pandemic, there is one tantalising question.
Is Formula 1 finally poised for that longed-for straight fight between Mercedes and Red Bull, Lewis Hamilton and Max Verstappen?
Yes, yes, I know. It's hard to believe Mercedes will not be the team to beat this year, after winning the championship double for the last seven years, with teams required to carry over large parts of their car designs from a 2020, a year which Hamilton and his team utterly dominated.
Murray Walker – a legend with effervescent enthusiasmNew F1 cars gallery – see the best 2021 launch pics
But Mercedes did not have a good test in Bahrain, and the drivers are struggling with the behaviour of their car. Red Bull, by contrast, gave many in F1 the impression that they were in the best shape over three days in Sakhir.
That, of course, is just a snapshot in time. Only a fool takes times from testing as serious indications of actual competitiveness. No-one believes the Mercedes is anything other than a fundamentally very quick car. And they have proved many times over the last seven years that they are remarkably adept at recovering from difficulties.
Problems, though, they certainly have.
What was wrong at Mercedes?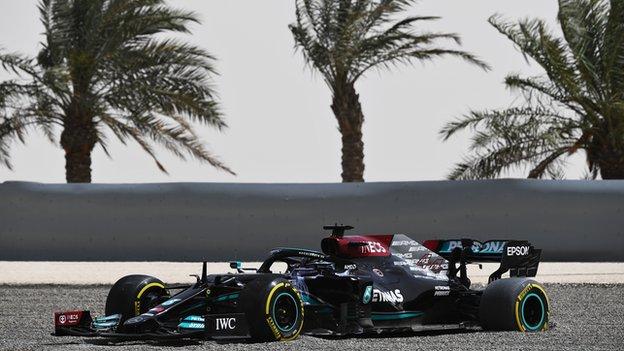 Hamilton spun off in the morning session on Saturday
Mercedes' test started badly, with a gearbox problem that deprived Valtteri Bottas of virtually all his running on Friday. When Hamilton took over the car in the afternoon, he was clearly having a difficult time, the car looking skittish and unstable. The seven-time champion was very obviously fighting the car, and had a number of 'moments' when he almost lost control.
Over the weekend, he actually did. Twice. Hamilton had a spin on each of the two days. It's very rare for him to make these kinds of mistakes at all, even rarer for it to happen in testing, when there is nothing at stake, and rarer still for him to do it on consecutive days.
On its own, that would be enough to show that something was wrong. And the team did not trouble to hide it.
Bottas said: "I would say one of the big issues with the car is the rear end. It's quite snappy and quite unforgiving and that, topped up with the new tyres that feel quite sensitive, sliding is not that easy.
"I'm trying to calm the car down a bit and that way get a bit more pace.
"It feels like we have made made some steps forward. We went in the right direction and it felt better. But still not 100% happy with the car."
Hamilton's assessment was starker: "I wouldn't call it a struggle necessarily, just not quick enough. Lots of work to do. It's going to be tough."
As things stand, Mercedes do not know what is causing this rear instability. They will spend the 12 days between the end of testing and the start of practice in Bahrain on 26 March trying to understand it, and then find solutions for it.
Why were Mercedes struggling?
If it sounds counter-intuitive that a car that dominated in 2020 should be proving so difficult at the start of 2021 when many of the mechanical and structural parts of it are the same, that would be to underestimate the impact of some regulation changes introduced for this season.
Last year, tyre supplier Pirelli expressed concern that the speed of the cars was putting too much strain on its tyres – in fact, this led to a number of blow-outs in the course of the season.
The Italian company asked F1 and the teams if they could find a way to limit the usual performance improvements that would be found over the winter, and Pirelli in turn has built more robust tyres with a stronger structure.
These rule changes cut away a portion of the floor in front of the rear tyres and limit the size of the diffuser at the back of the car, both areas that are crucial in creating aerodynamic downforce.
Teams are free to make aerodynamic changes for this year, and they have been working on recovering the downforce lost to these rules changes. Many are confident they will have largely done so before too long, if not gone beyond last year's downforce levels. But changes this significant have inevitably had an impact on the performance and behaviour of the cars.
That's not to say the problems Mercedes are having are necessarily aerodynamic, even if aerodynamics are the biggest performance definer on an F1 car. They don't know that yet. All they know is that the car is unstable at the rear and they need to work out why and fix it.
Hamilton said: "I don't waste time worrying. That deters you from finding a solution. It's better that it doesn't go smooth now and then it goes smoothly when we get to racing. This is the perfect time to have the problems so I welcome that.
"No-one is fazed by it. We are a multi-championship-winning team, and we know how to pull together, keep our head down and focus on the job.
"It is impressive to see the speed of some of the other teams. Red Bull are looking particularly strong and it's great to see McLaren looking strong and also Renault (Alpine)."
Asked if he believed Mercedes would be championship challengers this year, Bottas said: "I absolutely believe the car and the team have the potential to do so. I don't think it's yet there as a package in terms of performance, but I have no doubt we will work hard to find it somehow."
How good were Red Bull?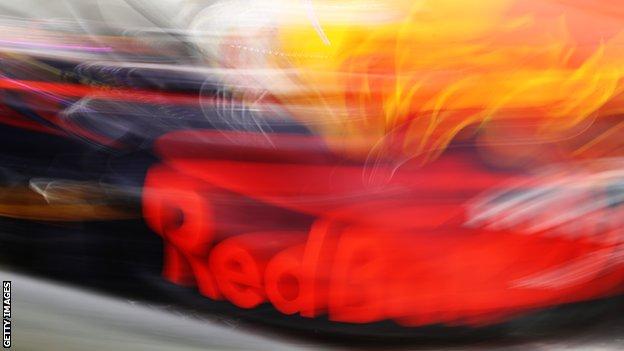 Red Bull's Max Verstappen was fastest in testing
While the Mercedes was nervous and unstable out on track, the Red Bull was the opposite. It appeared, by common consent, the single most impressive car in Bahrain over the last three days.
Verstappen ended the test fastest of all, and new team-mate Sergio Perez was fastest in the first session on Sunday before the Dutchman took over the car.
There were no major reliability concerns, and the car looked stable and quick on track.
Verstappen said the test had gone well: "What was most important was to get a lot of laps on board and understand the car and try things on the car. They were all responding like we would have hoped, so that was very positive."
But after seven years of disappointments at the hands of Mercedes, Red Bull are not about to start taking anything for granted.
"The amount of times Mercedes has topped the testing in the last few years is not very high," Verstappen said. "It is not about pure performance.
"I had positive feelings in the car, but we will find out at the first race where we are. It has been a good few days now but we always improve and try to be better.
"I don't think we are the favourites if Mercedes wins that many championships in a row. I think it is still the same as before the test."
Perhaps so, but the contrast with the start of last year is striking.
Then, Mercedes sailed through testing, while the Red Bull drivers were struggling keeping their car pointing forwards when the track turned.
This year, the roles have been reversed. Will it stay that way?
What about the rest?
It is notoriously difficult to get an accurate read on teams' relative competitiveness in pre-season testing. The number of variables at play – fuel loads, track conditions, engine modes and so on – make it impossible to get a like-for-like comparison.
That said, the teams themselves have complex computer programmes, into which they feed mountains of data, both current and historical, and their algorithms usually throw out an approximate order that is pretty accurate, within a margin of error of about 0.3-0.5secs for each car.
This year, not so much, because in Bahrain there were even more variables than usual.
Tyre wear is higher at Sakhir than at Barcelona, the usual pre-season venue, so lap times drop off much quicker lap by lap, reducing the amount of useful data to analyse.
Testing starting at 10:00 local, running through the heat of the day when lap times slow, and finishing at 19:00, in optimum conditions in the dark under lights. As such, the track conditions varied much more than normal – there could be as much as a 1.5-second spread simply depending on the time of day, wind direction and so on.
And engine modes have a greater influence on lap time in Bahrain than in Barcelona.
The result is that the usual relative confidence with which engineers leave the test about the competitive order is not there this year.
This certainly applies to trying to compare Mercedes and Red Bull, but it is even more relevant immediately behind them, where the battle last year was tight and frenetic.
As a result, it is impossible for anyone to say how McLaren, Aston Martin, Alpine, Ferrari and Alpha Tauri stack up against each other. There are only impressions and generalities.
McLaren without question had a strong test, running reliably and apparently quickly at all times as they bedded in their new relationship with engine supplier Mercedes, and new driver Daniel Ricciardo.
Fernando Alonso appears to have come back to F1 after two years racing elsewhere as if he had never been away, and his Alpine team appear to be in decent shape.
Alpha Tauri turned a few heads with their consistency and pace, and their new Japanese driver Yuki Tsunoda looked very promising.
Ferrari appeared to be struggling, at least until Charles Leclerc turned in an impressive-looking lap on the middle tyre compound in the hottest part of the day on Sunday. It was hard to get a read on them.
And the same goes for Aston Martin, formerly Racing Point, who had reliability problems and did very little representative running, prompting new signing Sebastian Vettel to say he was about 100 laps short of the mileage he needed to bed himself in with his new team and car.
If anything, it looks even tighter between these teams than in 2020.
McLaren team principal Andreas Seidl said: "We will see it will be a close fight between us, Aston Martin, Alpine and Ferrari. Alpha Tauri look very strong as well. With everything we could see so far, it all feels very close together again."
A feeling, though, is all it is.
BBC Sport looks back at the career of legendary Formula One commentator Murray WalkercommentsView Comments141
Comments
Join the conversation
To use comments you will need to have JavaScript enabled.
141 commentsShowLatestOldestHighest RatedMost RepliedS
Comment posted by Stugus, at 20:26 14 MarStugus
20:26 14 MarHappens every pre season, Ferrari are really mixing it with the mercs this year, first race the mercs smash everyone. How many times have we heard that over the past 6 years362I
Reply posted by I Am Not Lord Lucan, at 21:31 14 MarI Am Not Lord Lucan
21:31 14 Marto Stugus"Happens every pre season, Ferrari are really mixing it with the mercs this year, first race the mercs smash everyone. How many times have we heard that over the past 6 years"I Am Not Lord Lucan replied: The slightest mistake from Lewis and the F1 pundits and journalists endlessly repeat it and disgustingly the happiest to see Hamilton spin are BRITISH pundits and journalists. When it counts Lewis gets it together and shows his brilliance much to the despair of BRITISH pundits and journalists.

They are a disgrace to themselves, the sport and the UK.1923More replies (3)downT
Comment posted by thenestofvipers, at 21:04 14 Marthenestofvipers
21:04 14 MarWouldn't it be nice if it were 3 or 4 teams in the mix- instead we are supposed to be excited by the fact there 'might' be a challenge from one team.
When you read the new car press releases from teams such as Williams whos ambition was to 'move closer to the mid field' and Alpha Tauri whos ambition was to 'cement their place at the head of the midfield'-you know there's a competition issue in F1310I
Reply posted by I Am Not Lord Lucan, at 21:44 14 MarI Am Not Lord Lucan
21:44 14 Marto thenestofvipers"Wouldn't it be nice if it were 3 or 4 teams in the mix- instead we are supposed to be excited by the fact there 'might' be a challenge from one team.When you read the new car press releases from teams such as Williams whos ambition was to 'move closer to the mid field' and Alpha Tauri whos ambition was to 'cement their place at the head of the midfield'-you know there's a competition issue in F1"I Am Not Lord Lucan replied: Honestly, you read the comments and articles and you would be forgiven for not realising we have the best driver in history embarking on an attempt to achieve the biggest ever feat in motorsporting history.

None of us will ever see another human let alone British man achieve what Lewis is on the brink of achieving but all you see from the media & trolls are prayers that someone else will stop it.2019More replies (5)downN
Comment posted by Newsense, at 21:16 14 MarNewsense
21:16 14 MarMercedes dominance has been so strong for seven years that the media have to exegarate any potential challenge to that dominance, no matter how small, just to have something to talk about.

We've seen and heard it all before, yet year after year has been a mind numbing Mercedes cake walk.

I fully expect Mercedes to walk it this year once again.202V
Reply posted by Vin921, at 21:34 14 MarVin921
21:34 14 Marto Newsense"Mercedes dominance has been so strong for seven years that the media have to exegarate any potential challenge to that dominance, no matter how small, just to have something to talk about.We've seen and heard it all before, yet year after year has been a mind numbing Mercedes cake walk.I fully expect Mercedes to walk it this year once again."Vin921 replied: Possibly, but have you forgotten that 2017 and 2018 they weren't dominant? Ferrari were similar in 17 and faster in 18.96More replies (2)downF
Comment posted by footie fan, at 21:15 14 Marfootie fan
21:15 14 MarCrickey, why try and big up something that won't happen?Even a semblance of competition would be a massive step forward for F1.No chance of that though. Rules the same,cars the same,results the same.Same old story Andrew -wake us all up when something interesting happens.214D
Reply posted by derailed, at 21:18 14 Marderailed
21:18 14 Marto footie fan"Crickey, why try and big up something that won't happen?Even a semblance of competition would be a massive step forward for F1.No chance of that though. Rules the same,cars the same,results the same.Same old story Andrew -wake us all up when something interesting happens."derailed replied: yep…that just about sums up F1…boring, predictable and unentertaining.1010More replies (1)downB
Comment posted by Bosseyedness75, at 22:00 14 MarBosseyedness75
22:00 14 MarUsual sandbagging from Mercedes. Expect usual formation during season120S
Comment posted by Steve Maude, at 21:34 14 MarSteve Maude
21:34 14 MarFor Christ's sake, I know the BBC couldn't be bothered to screen the Grand Prix anymore but for the licence fee could you have at least employed the services of an editor before publishing this? It's an embarrassment.176B
Comment posted by Bal, at 21:28 14 MarBal
21:28 14 MarWe have this same article every year …. and then Merc run away with it anyway!121V
Reply posted by Vin921, at 21:31 14 MarVin921
21:31 14 Marto Bal"We have this same article every year …. and then Merc run away with it anyway!"Vin921 replied: Well last two years they did. However 2017 and 2018 they were up against a similar paced Ferrari. Maybe we're up for a 17/18 season which would be great.46More replies (3)downD
Comment posted by dan, at 21:08 14 Mardan
21:08 14 MarBlimey people are naive.

Yep I'm sureeeee they'll be a close battle between Red Bull and Mercedes this year, just like there was in 2019 when Mercedes pre season testing was poor. And in 2018 when Mercedes pre season testing was poor. And 2017… and 2016.

It will be the same old boring story and the same outcome, Lewis is the GOAT and I'm a fan, but I WISH they'd given George the other seat143V
Reply posted by Vin921, at 21:36 14 MarVin921
21:36 14 Marto dan"Blimey people are naive. Yep I'm sureeeee they'll be a close battle between Red Bull and Mercedes this year, just like there was in 2019 when Mercedes pre season testing was poor. And in 2018 when Mercedes pre season testing was poor. And 2017… and 2016.It will be the same old boring story and the same outcome, Lewis is the GOAT and I'm a fan, but I WISH they'd given George the other seat"Vin921 replied: But 2017 and 2018 was very close between Ferrari and Mercedes in pace.31More replies (1)downN
Comment posted by Nico Rosberg, at 21:34 14 MarNico Rosberg
21:34 14 MarEVERY. SINGLE. YEAR. ITS THE SAME STORY. WHEN WILL U EVER LEARN???122Removed commentMore replies (2)downS
Comment posted by sabjit, at 20:57 14 Marsabjit
20:57 14 MarThis happens every year… most aggregiously in 2019 when several well respected pundits even went as far as suggesting Merc were midfield pace and then they obliterated everyone.111N
Reply posted by Name, at 22:34 14 MarName
22:34 14 Marto sabjit"This happens every year… most aggregiously in 2019 when several well respected pundits even went as far as suggesting Merc were midfield pace and then they obliterated everyone."Name replied: The media have to drum up interest to get people to watch and keep them in a job20C
Comment posted by CJR, at 20:50 14 MarCJR
20:50 14 MarNope Mercedes are sandbagging once again, no one knows the trim, fuel loads, set up in these tests, no doubt Mercedes were just fine tuning.122D
Comment posted by DanB24, at 20:42 14 MarDanB24
20:42 14 MarShort answer.. No.101F
Comment posted by f1fan, at 21:29 14 Marf1fan
21:29 14 MarCars are too wide, too long, and there's not enough wheel to wheel action. Regarding this years "battle"…another LH championship unless Merc forget to put 4 wheels on his car. Roll on 2022!102R
Comment posted by Roger Ring, at 21:25 14 MarRoger Ring
21:25 14 MarHeadline

After a truncated pre-season testing programme, cut in half by the pandemic, there is one tantalising question.

Is Formula 1 finalised poised for that longed-for straight fight between Mercedes and Red Bull, Lewis Hamilton and Max Verstappen?

Answer

In a word "No"

Having said that I don't know what 'finalised' means in this context…80L
Comment posted by LS, at 21:10 14 MarLS
21:10 14 MarThere was no major rule change, just like last few year come race weekend, Mercs will easily have the fastest, and Bottas cant touch Lewis in same car. Unless Honda has suddenly found a miracle formula with little change they are allowed, it will be LH 8th WDC.102I
Comment posted by I Am Not Lord Lucan, at 21:09 14 MarI Am Not Lord Lucan
21:09 14 MarI find it very amusing that this article states "Only a fool takes times from testing as serious indications of actual competitiveness."

May I refer Andrew Benson to his and the rest of the F1 medias post testing headlines for the pass few years. The word irony does not quite capture it.135C
Comment posted by Champ20ns, at 21:03 14 MarChamp20ns
21:03 14 MarMercedes will cruise to another Championship this year, no matter how many articles try and hype up a title race.91T
Comment posted by thenestofvipers, at 21:30 14 Marthenestofvipers
21:30 14 MarNot just the fact there's unlikely to be any real season long challenge from another team, the bookies don't even think there will be much of a challenge within Mercedes themselves……..on Friday Bottas was 9/1 to be WC. Hamilton was 2/5 ON. Those odds tell a lot about the lack of competitiveness in F160U
Comment posted by UpTheDale, at 22:08 14 MarUpTheDale
22:08 14 MarRoll on 2022 already61E
Comment posted by Engineer John, at 22:01 14 MarEngineer John
22:01 14 MarNo seems to have commented on the impact of the sand. A little sand will soon ruin an engine so teams are probably running with old disposable engines or high performance air filters to keep the sand out but will restrict the air in the engine so cars may be down on power.40More commentsBack to topunknown
Source