Jesse Lingard, Luke Shaw and John Stones return to England squad
10 min read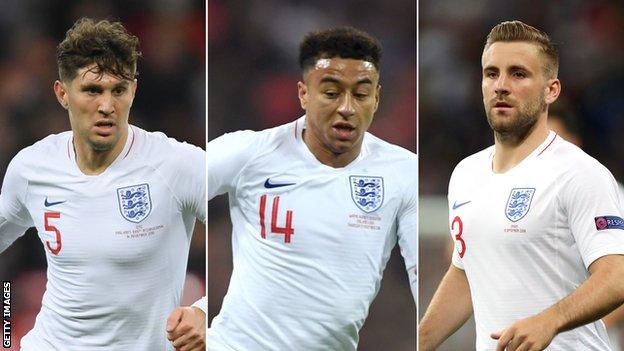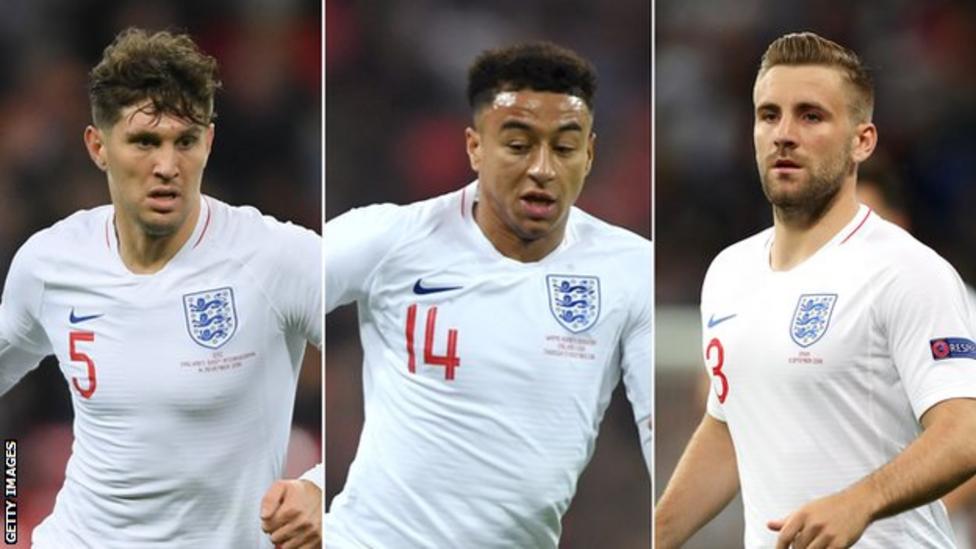 Stones, Lingard and Shaw have enjoyed a resurgence in form this season
England boss Gareth Southgate has recalled Jesse Lingard, Luke Shaw and John Stones to his squad for 2022 World Cup qualifiers later this month.
Aston Villa striker Ollie Watkins and West Brom keeper Sam Johnstone have also been called up for the first time.
Liverpool defender Trent Alexander-Arnold has not been included in the 26-man squad.
England play San Marino at home on 25 March, are away in Albania on 28 March and then host Poland on 31 March.
Midfielder Lingard, who is on loan at West Ham from Manchester United, last played for the national team in June 2019.
Manchester City centre-back Stones has not played for England since November 2019, while Manchester United left-back Shaw's last game for the side was in September 2018.
Borussia Dortmund's 17-year-old midfielder Jude Bellingham is in the squad but could miss out because of coronavirus restrictions in Germany.
"We are still investigating what is possible and we wanted to name him in the squad," said Southgate.
Bellingham's club team-mate Jadon Sancho misses out with injury, along with midfielders Jordan Henderson and Jack Grealish.
On Shaw's recall, Southgate said: "We often talk about coaches' and managers' impact on players but we have to give players a lot of credit.
"In Luke's case he has been defending on the front foot. He's been aggressive in his defending and shows great ambition in his attacking play. We know he has the quality to do that.
"He has earned his chance and deserves to be in."
England squad:
Goalkeepers: Dean Henderson (Manchester United), Sam Johnstone (West Brom), Nick Pope (Burnley).
Defenders: Ben Chilwell (Chelsea), Conor Coady (Wolves), Eric Dier (Tottenham), Reece James (Chelsea), Harry Maguire (Manchester United), Tyrone Mings (Aston Villa), Luke Shaw (Manchester United), John Stones (Manchester City), Kieran Trippier (Atletico Madrid), Kyle Walker (Manchester City).
Midfielders: Jude Bellingham (Borussia Dortmund), Phil Foden (Manchester City), Jesse Lingard (West Ham, on loan from Manchester United), Mason Mount (Chelsea), Kalvin Phillips (Leeds), Declan Rice (West Ham), James Ward-Prowse (Southampton).
Forwards: Dominic Calvert-Lewin (Everton), Harry Kane (Tottenham), Marcus Rashford (Manchester United), Bukayo Saka (Arsenal), Raheem Sterling (Manchester City), Ollie Watkins (Aston Villa).
More to follow.
commentsView Comments209
Comments
Join the conversation
To use comments you will need to have JavaScript enabled.
209 commentsShowLatestOldestHighest RatedMost RepliedR
Comment posted by Robert31, today at 14:14Robert31
14:14Luke Shaw deserves it, and I say that as a Man City fan, as does Stones. Also pleased to see Watkins and Johnstone called up. Good decisions picking players in form, not just names.464R
Comment posted by rsbaggy, today at 14:12rsbaggy
14:12Well deserved Sam Johnstone. Good to see Southgate looks beyond the glamour clubs.423T
Reply posted by thelantern1212, today at 14:15thelantern1212
14:15to rsbaggy"Well deserved Sam Johnstone. Good to see Southgate looks beyond the glamour clubs."thelantern1212 replied: He's certainly been the busiest in the PL so has had loads of opportunities to shine. And he has as well.41More replies (2)downG
Comment posted by Growley, today at 14:16Growley
14:16Mate you need to get down Villa Park and watch Konsa, he's like Beckenbauer compared to Dier!311B
Reply posted by Brian Russell, today at 14:20Brian Russell
14:20to Growley"Mate you need to get down Villa Park and watch Konsa, he's like Beckenbauer compared to Dier!"Brian Russell replied: My 12 year old daughter is like Beckenbauer compared to Dier, and she does not play football222More replies (3)downB
Comment posted by Brian Russell, today at 14:13Brian Russell
14:13Why the hell is Dier in the squad? He is a waste of space.314V
Reply posted by Vin921, today at 14:18Vin921
14:18to Brian Russell"Why the hell is Dier in the squad? He is a waste of space."Vin921 replied: I agree here, he's a terrible defender.61More replies (1)downD
Comment posted by Duffus , today at 14:18Duffus
14:18Would have picked WanBissaka and Keane over Trippier and Dier272B
Reply posted by BlueStig, today at 14:20BlueStig
14:20to Duffus "Would have picked WanBissaka and Keane over Trippier and Dier"BlueStig replied: Wan Bissaka can't make a cup of tea without going to ground and slide tackling the fridge door to get the milk.167More replies (2)downB
Comment posted by burrito, today at 14:16burrito
14:16Why even have the international break during an ongoing global pandemic. Literally asking for tons of Covid – 19 cases at all clubs. If I was a club manager, I wouldn't let my players go!284S
Reply posted by Steve, today at 14:41Steve
14:41to burrito"Why even have the international break during an ongoing global pandemic. Literally asking for tons of Covid – 19 cases at all clubs. If I was a club manager, I wouldn't let my players go!"Steve replied: f these were just friendlies fair enough. But these are World Cup qualifiers. If they don't play them now then they will have to insert another International break so the qualifiers can be played because they ain't going to move the world Cup itself.203
Comment posted by 3EyedCraven, today at 14:163EyedCraven
14:16Jesse Lingard is 28 and he's had 1 good season in his whole career275J
Reply posted by Jason, today at 14:34Jason
14:34to 3EyedCraven"Jesse Lingard is 28 and he's had 1 good season in his whole career"Jason replied: Joins Oxlade-Chamberlain in the massively overhyped club42More replies (1)downA
Comment posted by AndyB_MOT, today at 14:19AndyB_MOT
14:19To say Bamford can consider himself unlucky is a huge understatement. More goals than Watkins, Saka and Rashford.3312B
Reply posted by Brian Russell, today at 14:23Brian Russell
14:23to AndyB_MOT"To say Bamford can consider himself unlucky is a huge understatement. More goals than Watkins, Saka and Rashford."Brian Russell replied: How can you compare Saka to Bamford? They play in totally different positions. Saka deserves his place, as he has been consistently good every game.135More replies (7)downD
Comment posted by David, today at 14:28David
14:28How bad does Dier have to be before he is left out?191B
Comment posted by BLM and all, today at 14:19BLM and all
14:19Absolute madness to have people travelling around the world when the rest of us are trying to stay safe and keep everyone else safe by barely making it to the local supermarket.214U
Reply posted by -_-, today at 14:45-_-
14:45to BLM and all"Absolute madness to have people travelling around the world when the rest of us are trying to stay safe and keep everyone else safe by barely making it to the local supermarket."-_- replied: going by your 'title' i presume you hail from some sort of a concrete wasteland, where the air is fresh with particulates and the gossip is stuffed with personal insecurities. mass media loves feeding their children of the slave trade13E
Comment posted by Ewan Hoozami, today at 14:27Ewan Hoozami
14:27People: Always the same players, picked on reputation.
Lingard gets picked after playing brilliantly for 3 months.
Also people: Why the hell is Lingard picked, just because he's playing well? He hasn't got a reputation.

This is why we can't have nice things.130D
Reply posted by Don Cossack, today at 14:54Don Cossack
14:54to Ewan Hoozami"People: Always the same players, picked on reputation.Lingard gets picked after playing brilliantly for 3 months.Also people: Why the hell is Lingard picked, just because he's playing well? He hasn't got a reputation.This is why we can't have nice things."Don Cossack replied: I totally agree with you but not everybody that isn't you has the same opinion. I for one welcome Lingard back, he's earnt it.00More replies (1)downM
Comment posted by modharry, today at 14:20modharry
14:20Vastly injury hit squad Pickford, Henderson, Grealish, Maddison ,Sancho, Barnes would all have been certs for the squad on form this season but all are injured.
So it's hard to say alot really other than the obvious surprised no Alexander Arnold & Bamford. Could throw in likes of Harrison from Leeds , Cresswell from W Ham & Target from Villa on form this season aswell.90B
Reply posted by Bunner, today at 14:37Bunner
14:37to modharry"Vastly injury hit squad Pickford, Henderson, Grealish, Maddison ,Sancho, Barnes would all have been certs for the squad on form this season but all are injured. So it's hard to say alot really other than the obvious surprised no Alexander Arnold & Bamford. Could throw in likes of Harrison from Leeds , Cresswell from W Ham & Target from Villa on form this season aswell."Bunner replied: Pickford is no loss33K
Comment posted by kris, today at 14:27kris
14:27Eric Dire – WHY? He must have something on Southgate…91S
Reply posted by S4ymour, today at 14:32S4ymour
14:32to kris"Eric Dire – WHY? He must have something on Southgate…"S4ymour replied: He is versatile and it's always good to have that. Pretty much getting two players for one. He may not be the best in your opinion but every manager would rather have a team full of versatile players than not.21More replies (2)downT
Comment posted by thelantern1212, today at 14:17thelantern1212
14:17Insistence with McGuire and Dier is worrying.
Stones is in commanding form so ought to be first pick CB. But who partners him?135B
Reply posted by bobby smith, today at 14:21bobby smith
14:21to thelantern1212"Insistence with McGuire and Dier is worrying.Stones is in commanding form so ought to be first pick CB. But who partners him?"bobby smith replied: For me maguire and stones will make a great partnership and shaw and Walker as full backs120More replies (1)downC
Comment posted by Cuppalicious, today at 14:13Cuppalicious
14:13Lingard?104B
Reply posted by Brian Russell, today at 14:16Brian Russell
14:16to Cuppalicious"Lingard?"Brian Russell replied: To be fair, he has a new lease of life at West Ham. He is in form, so why not.94More replies (3)downV
Comment posted by VileCAESARB, today at 14:12VileCAESARB
14:12Good, Southgate being pragmatic and trying all options also, like it.60A
Reply posted by abracadabra, today at 14:38abracadabra
14:38to VileCAESARB"Good, Southgate being pragmatic and trying all options also, like it."abracadabra replied: Pragmatism needed during the games too. But yeah some good selections.00F
Comment posted by fjortoft, today at 14:14fjortoft
14:14John Stones and Luke Shaw 100% deserve a recall. Lingard on the other hand is a strange choice. Yes, he's had a decent start at West Ham but that's 6 games and he's barely played for the last year before that.
I'd hope he wouldn't be in the squad if Grealish or Maddison were fit but even when them out I don't even think he's a better option than Alli or Barkley.1510N
Reply posted by Norm, today at 14:17Norm
14:17to fjortoft"John Stones and Luke Shaw 100% deserve a recall. Lingard on the other hand is a strange choice. Yes, he's had a decent start at West Ham but that's 6 games and he's barely played for the last year before that. I'd hope he wouldn't be in the squad if Grealish or Maddison were fit but even when them out I don't even think he's a better option than Alli or Barkley."Norm replied: He is in better form than the last 2 you mentioned. Agree re JG and JM121More replies (2)downM
Comment posted by M11 3FF, today at 14:35M11 3FF
14:35No surprise that Alexander-Arnold isn't included! Well done the City boys – poetry in motion. 👏🏻👏🏻👏🏻51B
Comment posted by Bowvilla, today at 14:20Bowvilla
14:20Fair play to Ollie Watkins. Fully deserved!106M
Reply posted by market1, today at 14:28market1
14:28to Bowvilla"Fair play to Ollie Watkins. Fully deserved!"market1 replied: absolute rubbish at best will be a half cap wonder or another chris sutton16More replies (1)downL
Comment posted by Lord Elpus, today at 14:15Lord Elpus
14:15I'm a bit surprised about Lingard. He's had six decent games after a couple of years of nothing, and he's back in the England squad?74K
Reply posted by Kev, today at 14:18Kev
14:18to Lord Elpus"I'm a bit surprised about Lingard. He's had six decent games after a couple of years of nothing, and he's back in the England squad?"Kev replied: He always plays well for England.02More replies (2)downMore commentsBack to topunknown
Source