Josh Warrington suffers fractured jaw in shock Mauricio Lara defeat
3 min read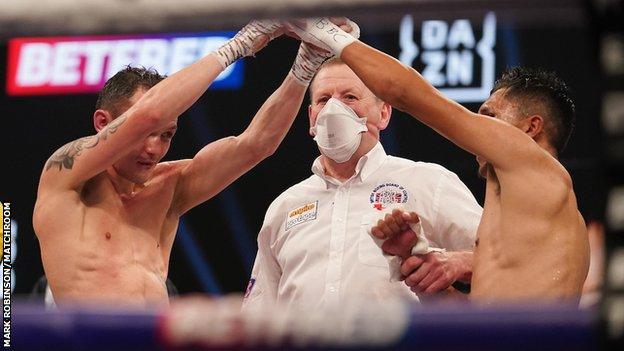 Warrington raised Lara's hand after the shock result
Josh Warrington believes "100%" that he can still achieve his "dreams and goals", despite Saturday's shock defeat by Mexico's Mauricio Lara.
The British featherweight was floored in round four at Wembley Arena before being knocked out in the ninth.
On Sunday it was revealed he fractured his jaw, perforated an ear drum and damaged his shoulder in the first loss of his 12-year professional career.
"Credit to Lara, he seized the opportunity," said Warrington, 30.
Hearn angered by 'disgusting' scoring in Barrett-Martinez fight
Warrington, who did no post-fight interviews as he was quickly taken to hospital with concussion, added in a YouTube video released on Sunday: "I have a little bit of a fracture on my jaw.
"I should have boxed and made it clever. I should have stuck to the boxing and made it easier for myself. I got drawn into the fight in the first round and got caught a few times after."
Those close to Warrington say he took a heavy shot in the opening round, and was not able to fully recover, with the result billed as one of the biggest shocks in a UK ring in recent years.
The sight of the Leeds fighter staggering around the ring after being floored in the fourth led some boxers and pundits to state that the bout should have been stopped then.
Warrington – who is trained by his fat her – rejected suggestions the fight should have been stopped, and insists he was able to continue.
Lara was viewed as a stepping stone for Warrington to shake off 16 months of inactivity and prepare for eye-catching fights later this year against the featherweight division's title holders.
His price with bookmakers of 1-25 underlined how he was expected to despatch a fighter who had never mixed with someone of his level.
"We will take some time off now," added Warrington, who returned home on Sunday to celebrate his twin daughters' third birthday.
"I've not been in the ring for 15 months but we haven't stopped training while waiting for a date. I think that's been difficult. But I'll enjoy time off, rest up, get back on it and go again.
"I still feel I have what it takes to achieve those dreams and goals. I 100% believe that.
"I've still got a few years to do. One of them where you look back and it's a little bit of a bump in the road but it happens to the best of us and it will probably give me more motivation to come back stronger."
In the immediate aftermath, promoter Eddie Hearn told IFL TV he had spoken to Warrington prior to his hospital visit, adding: "He couldn't believe what had happened. You could tell he was concussed. He has to rest. We told him and the British Boxing Board of Control told him he must go to hospital.
"He will be back. It's going to take him a while as it was a brutal fight. If there's a rematch it will be epic. Right now it's about making sure he's fit, safe and healthy so he can recover."