Kazakhstan 0-2 France: Manchester United's Anthony Martial is replaced after treatment
2 min read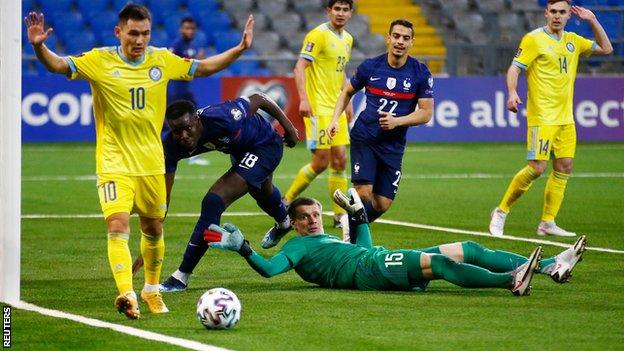 France, who beat Croatia in the 2018 World Cup final in Moscow, ease to a straightforward away win in Kazakhstan
France forward Anthony Martial went off after receiving treatment for an injury during his country's World Cup qualifying win over Kazakhstan.
Martial's clever turn and pass set up Ousmane Dembele to make it 1-0 against the team ranked 122 in the world.
Sergiy Maliy produced a fine clearance as Martial looked to make it 2-0 before the defender headed into his own net.
Manchester United player Martial was replaced by Kylian Mbappe, who had a penalty saved after being fouled.
Having been held 1-1 by Ukraine in Paris last Wednesday, reigning World Cup champions France have four points from two games in Group D.
Didier Deschamps' side are back in qualifying action on Wednesday away to Bosnia-Herzegovina.
Paul Pogba started against Kazakhstan after Deschamps said on the eve of the game that the Manchester United midfielder needed regular game time to rediscover his best form.
Pogba played for an hour before being replaced by Adrien Rabiot.
Line-upsMatch StatsLive Text
Line-ups
Kazakhstan
Formation 5-3-2
15Mokin23Bystrov4Erlanov2Maliy3Alip7Valiullin10Muzhikov8Tagybergen14Vassiljev13Nurgaliev20Fedin15Mokin23Bystrov4Erlanov2Maliy3Alip7ValiullinSubstituted forSamorodovat 83'minutes10MuzhikovSubstituted forVorogovskiyat 65'minutes8Tagybergen14VassiljevSubstituted forAstanovat 89'minutes13NurgalievSubstituted forKarimovat 83'minutes20FedinSubstituted forTungyshbayevat 65'minutes
Substitutes
1Pokatilov5Samorodov6Usenov9Astanov11Vorogovskiy12Seysen16Tungyshbayev17Dosmagambetov18Orazov19Karimov21Beysebekov22Marochkin
France
Formation 4-2-3-1
1Lloris12Dubois18Zouma5Lenglet19Digne6Pogba13Ndombele11Dembélé7Griezmann8Lemar20Martial1Lloris12Dubois18Zouma5Lenglet19Digne6PogbaSubstituted forRabiotat 59'minutes13NdombeleSubstituted forSissokoat 82'minutes11DembéléBooked at 88minsSubstituted forComanat 90'minutes7GriezmannSubstituted forBen Yedderat 59'minutes8Lemar20MartialSubstituted forMbappéat 59'minutes
Substitutes
2Pavard3Mendy4Varane9Giroud10Mbappé14Rabiot15Coman16Mandanda17Sissoko21Hernández22Ben Yedder23MaignanReferee:Aleksey Kulbakov
Match Stats
Home TeamKazakhstanAway TeamFrancePossessionHome37%Away63%ShotsHome4Away15Shots on TargetHome1Away9CornersHome0Away9FoulsHome13Away17
Live Text
Post update

Match ends, Kazakhstan 0, France 2.