Leeds United 0-0 Manchester United: Red Devils held to Elland Road stalemate
5 min read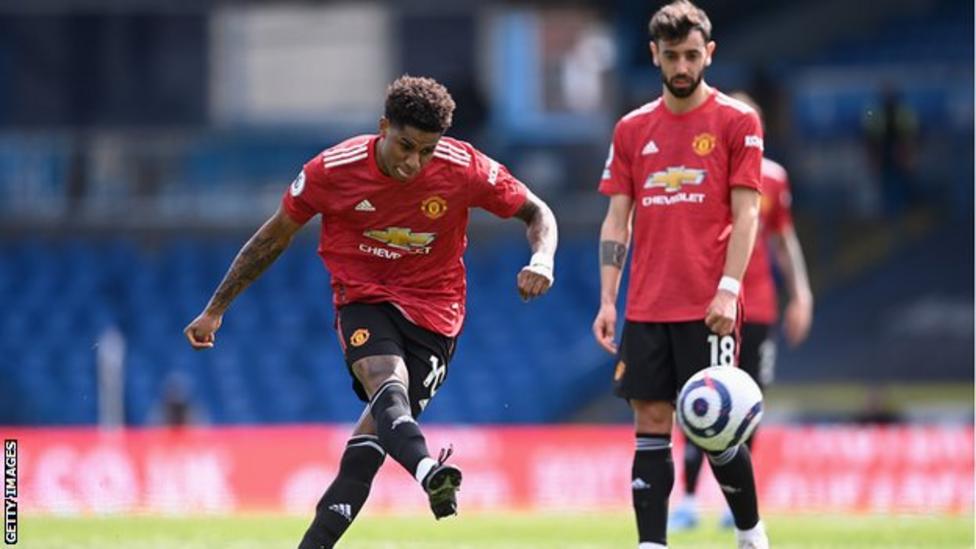 Marcus Rashford's first-half free-kick was well saved by Illan Meslier
Manchester United failed to impose their perceived superiority over old rivals Leeds and had to settle for a point from a disappointing draw.
In a game of few chances, Marcus Rashford came closest with a free-kick just before half-time.
But memories of a forgettable encounter on the pitch will remain because of off-field issues.
A plane trailing a banner proclaiming '2bn stolen – Glazers out' flew over Elland Road just before kick-off.
That it was not set up by any of the organised Manchester United supporter groups just underlines the strength of feeling created by this week's European Super League controversy, fuelling an already negative view of the club's American owners.
As one of England's biggest clubs themselves, Leeds will be satisfied at extending their run of home draws against 'Big Six' opposition to five, with only Tottenham left to come.
The result means Manchester City will be crowned Premier League champions next weekend if Pep Guardiola's side beat Crystal Palace on Saturday and second-placed United lose at home to Liverpool on Sunday.
Follow reaction from Leeds v Man Utd and Sunday's other Premier League games
'Betrayed' – visitors made aware of ESL feelings
The visitors were spared the uncomfortable welcome and intense atmosphere normally associated with this fixture but the passions stirred by the thwarted European Super League breakaway were difficult for them to ignore.
A banner, pinned to a railing outside the ground, bore a lengthy statement, which started with the words 'Don't let them threaten or bully you any more' and demanded action against the six clubs.
The match programme included columns from manager Marcelo Bielsa and skipper Liam Cooper, which both condemned the plot.
Chief executive Angus Kinnear called it a 'betrayal of every true football supporter' but warned it would be 'naïve to believe the threat has been extinguished forever' and that while 'this week's battle against elitism may have been won, the ongoing war needs to be relentlessly and vigorously fought'.
With the banner against the Old Trafford ownership being trailed as well and the Leeds owner Andrea Radrizzani, plus director of football Victor Orta sporting large white roses – the symbol of Yorkshire – in their lapels, there was enough spice even without the presence of supporters.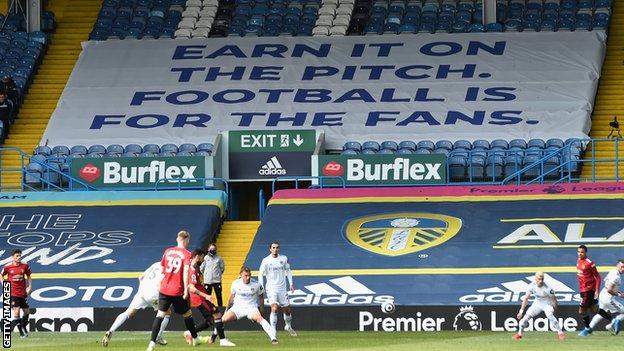 Leeds fans and officials continued to make their feelings known about the European Super League proposals
United executive vice-chairman Ed Woodward, who was heavily involved in Super League discussions but was prompted to hand in his resignation due to his dislike of the proposals, was also absent.
It was a surprise therefore, that the contest began in such a lacklustre manner.
Not until the final minutes of the opening period did a breakthrough seem possible, when Illan Meslier tipped a goal-bound Rashford free-kick over and Harry Maguire nodded the result ing corner wide.
Leeds move above Arsenal
The second period was more even at least and Helder Costa drove a low cross along the six-yard area before his shot deflected off Victor Lindelof and looped over.
But goalmouth action was rare and treats even fewer. Indeed, arguably the highlight was seeing Fred and Maguire having a go at each other during a break in play.
The result leaves United needing four points from their remaining five games to confirm a place in next season's Champions League.
But as the point takes Leeds ahead of Arsenal, there is poignancy for the west Yorkshire side in the table as well.
Red Devils kings of the road despite draw – the stats
Manchester United are unbeaten in their past 24 Premier League away games (W15 D9), with only Arsenal between April 2003 and September 2004 (27) having a longer such run in English top-flight history.Leeds had only six shots in this match, their joint-fewest in a league game at Elland Road under Marcelo Bielsa (also six against Barnsley in July 2020). Manchester United have drawn seven league games 0-0 this season – only in 1980-81 (8) have they been involved in more goalless draws in a single league campaign. United have the most goalless draws of any side in the Premier League this season.Manchester United's Luke Shaw has created 11 chances in his last two league games; in 2021 he has created the most chances of any player in the Premier League (50).Harry Maguire (10) is only the third Manchester United player to be shown 10+ yellow cards in a single Premier League campaign, after Steve Bruce in 1994-95 (11) and Luke Shaw in 2018-19 (11).
What's next?
Leeds' next game is at Brighton in the Premier League on Saturday, 1 May (15:00 BST).
Manchester United are next in action in the first leg of their Europa League semi-final against Italian side AS Roma at Old Trafford on Thursday, 29 April (20:00 BST).
Their next Premier League game is against Liverpool, also at Old Trafford, on Sunday, 2 May (16:30 BST).
Player of the match
PhillipsKalvin Phillips
with an average of 7.83LeedsLeeds UnitedLeeds UnitedMan UtdManchester UnitedManchester United
Leeds United
Squad number23Player namePhillipsAverage rating

7.83

Squad number14Player nameLlorenteAverage rating

7.60

Squad number21Player nameStruijkAverage rating

7.57

Squad number1Player nameMeslierAverage rating

7.47

Squad number2Player nameAylingAverage rating

7.36

Squad number10Player nameAlioskiAverage rating

7.27

Squad number15Player nameDallasAverage rating

7.08

Squad number9Player nameBamfordAverage rating

6.84

Squad number7Player namePoveda-OcampoAverage rating

6.70

Squad number5Player nameKochAverage rating

6.68

Squad number43Player nameKlichAverage rating

6.56

Squad number11Player nameRobertsAverage rating

6.55

Squad number17Player nameHélder CostaAverage rating

6.48

Squad number22Player nameHarrisonAverage rating

6.45
Manchester United
Squad number23Player nameShawAverage rating

5.20

Squad number29Player nameWan-BissakaAverage rating

5.09

Squad number26Player nameHendersonAverage rating

5.00

Squad number11Player nameGreenwoodAverage rating

4.91

Squad number39Player nameMcTominayAverage rating

4.80

Squad number18Player nameBruno FernandesAverage rating

4.79

Squad number2Player nameLindelöfAverage rating

4.75

Squad number10Player nameRashfordAverage rating

4.74

Squad number5Player nameMaguireAverage rating

4.57

Squad number17Player nameFredAverage rating

4.50

Squad number34Player namevan de BeekAverage rating

4.41

Squad number6Player namePogbaAverage rating

4.36

Squad number7Player nameCavaniAverage rating

4.36

Squad number21Player nameJamesAverage rating

4.29
Line-upsMatch StatsLive Text
Line-ups
Leeds
Formation 4-1-4-1
1Meslier2Ayling14Llorente21Struijk10Alioski23Phillips17Hélder Costa15Dallas11Roberts22Harrison9Bamford1Meslier2AylingBooked at 37mins14Llorente21Struijk10AlioskiBooked at 64mins23Phillips17Hélder CostaSubstituted forKlichat 72'minutes15Dallas11RobertsBooked at 39minsSubstituted forKochat 77'minutes22HarrisonSubstituted forPoveda-Ocampoat 68'minutes9BamfordBooked at 70mins
Substitutes
5Koch7Poveda-Ocampo13Casilla19Hernández28Berardi38Summerville42Greenwood43Klich46Shackleton
Man Utd
Formation 4-2-3-1
26Henderson29Wan-Bissaka2Lindelöf5Maguire23Shaw39McTominay17Fred21James18Bruno Fernandes10Rashford11Greenwood26Henderson29Wan-Bissaka2Lindelöf5MaguireBooked at 68mins23Shaw39McTominay17FredSubstituted forvan de Beekat 89'minutes21JamesSubstituted forPogbaat 76'minutes18Bruno Fernandes10RashfordSubstituted forCavaniat 86'minutes11Greenwood
Substitutes
1de Gea3Bailly6Pogba7Cavani8Mata27Telles31Matic34van de Beek38TuanzebeReferee:Craig Pawson
Match Stats
Home TeamLeedsAway TeamMan UtdPossessionHome44%Away56%ShotsHome6Away16Shots on TargetHome3Away4CornersHome2Away6FoulsHome21Away11
Live Text
Post update

Match ends, Leeds United 0, Manchester United 0.