Leeds United 1-1 Liverpool: Diego Llorente denies Reds place in top four
6 min read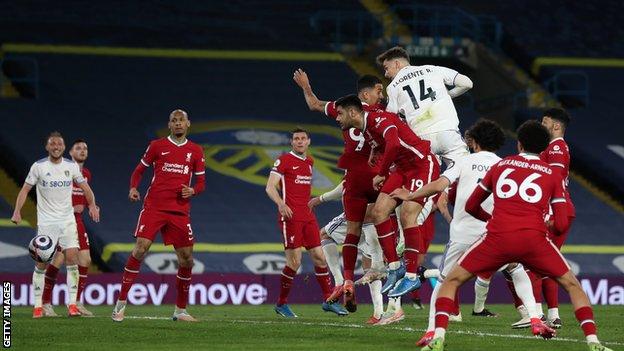 Diego Llorente's equaliser was his first goal in English football
Diego Llorente scored a late equaliser for Leeds to deny Liverpool a place in the top four of the Premier League – as uncertainty reigns over what that would mean following the announcement of the European Super League.
The Reds are one of 12 clubs to agree to join a breakaway ESL to "commence as soon as practicable". Even if it does not start next season, Uefa has said it could ban the clubs – including six English sides – from European competition for their defection.
There was a strange mood around the first game involving any of the 12 teams since Sunday night's announcement, with protests inside and outside the ground.
Fans of Leeds and other clubs gathered outside Elland Road to stage a protest – during which a Liverpool shirt was burned – and a plane flew over the stadium displaying an anti-Super League message.
Inside the stadium Leeds players wore T-shirts saying 'Earn it' next to the Champions League logo and 'Football is for the fans'. A banner behind one goal had the same message.
Leeds left the shirts in Liverpool's dressing room too, in case they wanted to protest – a move that annoyed Reds boss Jurgen Klopp, who said he does not like the idea of the ESL but that he and his players had no say in it.
Liverpool dominated the first half and went ahead when Trent Alexander-Arnold latched on to Diogo Jota's fine pass and squared it to Sadio Mane to slot into an empty net after Illan Meslier had rushed out of goal.
That was his first Premier League goal since January, a run of 10 games.
Leeds improved after the break and Patrick Bamford hit the crossbar before Llorente headed in his first goal for the club.
Relive the action at Elland RoadPlayers not to blame for Super League – Liverpool boss Jurgen Klopp
Reds remain outside European places
Liverpool stay sixth after this result. Were they to occupy that position at the end of the season, they would not even finish in a European place, unless one of the domestic cup winners also finish in the top five.
But if the Super League does happen, the Reds would no longer need to worry about such things.
Liverpool were the dominant force in the first half especially, with Thiago Alcantara forcing a save from distance and Roberto Firmino shooting straight at Meslier before the goal.
Leeds battled back in the second half but Liverpool had two great chances to win it – shortly before the equaliser when substitute Mohamed Salah dragged a shot wide and then in the final minute when Alex Oxlade-Chamberlain was denied by Meslier.
Liverpool's immediate future, though, is more likely to be decided off the pitch, rather than in a game at Elland Road against an English side not in the 'big six'.
Leeds United manager Marcelo Bielsa speaks out after the announcement of the Super League.
Leeds again prove a match for Europe's elite
Leeds followed up last weekend's victory over champions-elect Manchester City with a dramatic draw against the title holders. Next up is old rivals Manchester United as they navigate a sequence of testing fixtures.
The hosts were not at their busy best in the first half – although Bamford was denied by Alisson after some poor goalkeeping – but they dramatically improved after the break.
Bamford clipped a clever first-time shot over Alisson that came off the crossbar, and Jack Harrison was denied by the goalkeeper at his near post.
Leeds got the goal they deserved when Llorente nodded in Harrison's corner for a first goal in English football.
United sit 10th in the Premier League, eight points behind the automatic European places. Although if six teams above them suddenly became ineligible, they would be in the Champions League spots.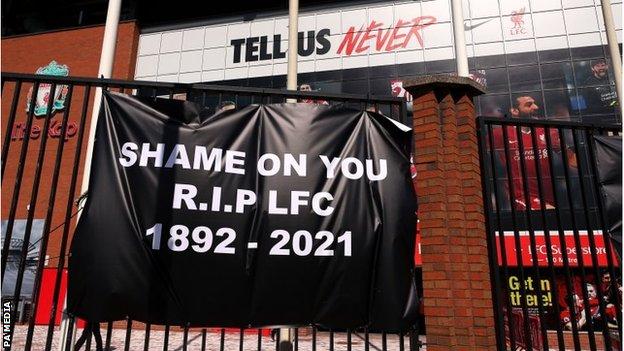 There were several anti-Super League banners at Anfield placed by Liverpool fans during the day
Match stats – Leeds reach 50-50 goal mark
Leeds have won just one of their last 12 home games against Liverpool in all competitions (D4 L7).Liverpool have dropped 13 points from winning positions in the Premier League this season, two more than they had over the last two campaigns combined.Leeds have both scored and conceded 50 goals in the Premier League this season (32 games), with only Tottenham in 2007-08 doing so in fewer matches in a campaign in the competition (30).Liverpool's possession figure of 38.8% was their lowest in a Premier League game since November 2018 (38.2% vs Arsenal) – a game that also finished 1-1.Some 75% of Sadio Mane's Premier League goals this season have come away from home (6/8).Eight of Trent Alexander-Arnold's 31 Premier League assists for Liverpool have been for Mane, at least three more than he has provided for any other player.Diego Llorente's equaliser was his first goal in his 10th Premier League game for Leeds, and his first goal overall since July 2020 for Real Sociedad at Villarreal.With two attempts, Liverpool's Mohamed Salah became the second player to record 100 shots in the Premier League this season (101 in total), after Harry Kane (117).Leeds United player Patrick Bamford questions the benefits of the Super League
What's next?
Liverpool host Newcastle in the early Saturday game (12:30 BST), while Leeds' tough run continues with a home game against Manchester United at 14:00 the following day.
Player of the match
LlorenteDiego Llorente
with an average of 7.92LeedsLeeds UnitedLeeds UnitedLiverpoolLiverpoolLiverpool
Leeds United
Squad number14Player nameLlorenteAverage rating

7.92

Squad number15Player nameDallasAverage rating

7.89

Squad number23Player namePhillipsAverage rating

7.74

Squad number21Player nameStruijkAverage rating

7.67

Squad number2Player nameAylingAverage rating

7.61

Squad number9Player nameBamfordAverage rating

7.49

Squad number22Player nameHarrisonAverage rating

7.46

Squad number10Player nameAlioskiAverage rating

7.35

Squad number1Player nameMeslierAverage rating

7.30

Squad number7Player namePoveda-OcampoAverage rating

7.30

Squad number11Player nameRobertsAverage rating

7.14

Squad number19Player namePablo HernándezAverage rating

7.08

Squad number43Player nameKlichAverage rating

6.97

Squad number17Player nameHélder CostaAverage rating

6.88
Liverpool
Squad number1Player nameAlissonAverage rating

4.92

Squad number7Player nameMilnerAverage rating

4.82

Squad number10Player nameManéAverage rating

4.77

Squad number66Player nameAlexander-ArnoldAverage rating

4.73

Squad number20Player nameDiogo JotaAverage rating

4.61

Squad number3Player nameFabinhoAverage rating

4.42

Squad number19Player nameKabakAverage rating

4.30

Squad number9Player nameRoberto FirminoAverage rating

4.28

Squad number6Player nameThiago AlcántaraAverage rating

4.18

Squad number5Player nameWijnaldumAverage rating

3.98

Squad number11Player nameMohamed SalahAverage rating

3.94

Squad number15Player nameOxlade-ChamberlainAverage rating

3.39

Squad number26Player nameRobertsonAverage rating

3.34
Line-upsMatch StatsLive Text
Line-ups
Leeds
Formation 4-1-4-1
1Meslier2Ayling14Llorente21Struijk10Alioski23Phillips17Hélder Costa15Dallas11Roberts22Harrison9Bamford1Meslier2Ayling14Llorente21Struijk10AlioskiBooked at 37minsSubstituted forKlichat 79'minutes23Phillips17Hélder CostaSubstituted forPoveda-Ocampoat 67'minutes15DallasBooked at 25mins11RobertsSubstituted forHernándezat 86'minutes22Harrison9Bamford
Substitutes
5Koch7Poveda-Ocampo13Casilla19Hernández24Davis28Berardi30Gelhardt43Klich46Shackleton
Liverpool
Formation 4-3-3
1Alisson66Alexander-Arnold3Fabinho19Kabak26Robertson6Thiago Alcántara5Wijnaldum7Milner20Jota9Firmino10Mané1Alisson66Alexander-Arnold3Fabinho19Kabak26Robertson6Thiago Alcántara5Wijnaldum7Milner20JotaSubstituted forOxlade-Chamberlainat 81'minutes9FirminoBooked at 39mins10ManéSubstituted forSalahat 71'minutes
Substitutes
8Keita11Salah13Adrián15Oxlade-Chamberlain21Tsimikas23Shaqiri28Davies46R Williams76N WilliamsReferee:Anthony Taylor
Match Stats
Home TeamLeedsAway TeamLiverpoolPossessionHome61%Away39%ShotsHome12Away17Shots on TargetHome5Away7CornersHome10Away8FoulsHome7Away15
Live Text
Post update

Match ends, Leeds United 1, Liverpool 1.