Leicester 3-0 West Brom: Ruthless Foxes see off West Brom
4 min read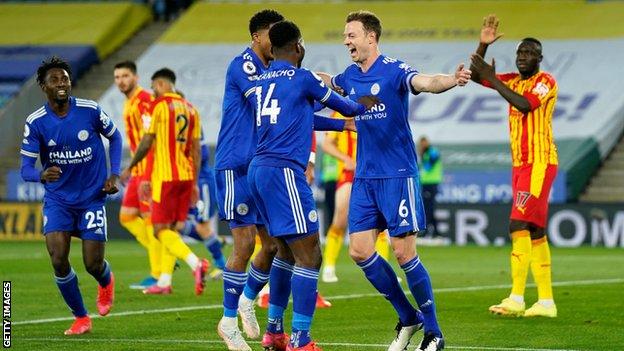 Leicester were 3-0 up at half-time for the 10th time in their history in the Premier League
Leicester opened up a four-point gap to fourth place in the Premier League with victory over relegation-bound West Brom at the King Power Stadium.
Three goals in 13 first-half minutes did the damage as striker Jamie Vardy scored one and assisted another.
Vardy was teed up by Timothy Castagne for the opener, before he set up Kelechi Iheanacho after a driving run down the left for Leicester's third.
Centre-back Jonny Evans had nodded in a deflected corner to make it 2-0.
In a game that had several goalscoring opportunities, Castagne and West Brom's Matheus Pereira also hit the woodwork in the first half.
Victory means Leicester are now four points clear of Chelsea, who occupy the final Champions League qualification spot with six games remaining. The two sides meet in the league – as well as the FA Cup final – next month.
West Brom are on the brink of relegation as they remain nine points from safety and have a far inferior goal difference than 17th-placed Burnley.
How Leicester's win over West Brom unfolded
Relentless Leicester round off memorable week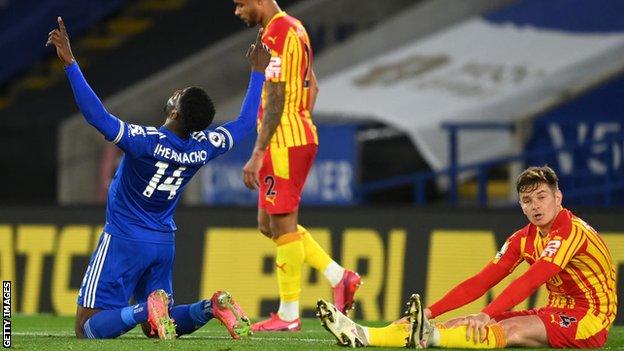 Kelechi Iheanacho has scored 13 goals in all competitions in 2021
After booking their place in the FA Cup final on Sunday, Leicester could not have finished the week in better fashion.
They looked eager to get on the front foot from the off – carving West Brom's defence apart with through balls from Youri Tielemans and driving runs from Vardy and Castagne.
Iheanacho and James Maddison both had chances in the opening 10 minutes, before Tielemans eventually played in Castagne and he put it on a plate for Vardy to thump it in.
West Brom defender Dara O'Shea's last-ditch tackle on Iheanacho prevented an immediate second for Leicester but the reprieve was short-lived as Evans then nodded to make it 2-0 within three minutes of Vardy's opener.
Striker Vardy turned provider when he skipped past his opponent and teed up Iheanacho for Leicester's third.
That goal came after West Brom's Pereira and Leicester's Castagne had both hit the woodwork and there could have been another goal via Iheanacho before the break when he lashed it over from six yards out.
The relentlessness of Leicester's attack in the first half did the damage but they still enjoyed plenty of space in the second half – Iheanacho seeing a shot blocked by O'Shea in the box and a free-kick palmed away by goalkeeper Sam Johnstone, while Vardy's long-range chip sailed wide.
Manager Brendan Rodgers was also able to bring off Maddison, Vardy and Wesley Fofana with Monday's game against Crystal Palace in mind.
More to follow.
helpHow to play
Rate players out of 10 throughout or after the game. The rater will close 30 minutes after the final whistle.
Rating range key1 = Give it up10 = Pure perfectionLeicesterLeicester CityLeicester CityWest BromWest Bromwich AlbionWest Bromwich Albion
Leicester City
Starting XI
Squad number1Player nameSchmeichelAverage rating

7.21

12345678910Squad number3Player nameFofanaAverage rating

7.44

12345678910Squad number6Player nameEvansAverage rating

7.88

12345678910Squad number4Player nameSöyüncüAverage rating

7.66

12345678910Squad number27Player nameCastagneAverage rating

8.10

12345678910Squad number25Player nameNdidiAverage rating

7.79

12345678910Squad number8Player nameTielemansAverage rating

7.68

12345678910Squad number33Player nameThomasAverage rating

7.47

12345678910Squad number10Player nameMaddisonAverage rating

7.65

12345678910Squad number14Player nameIheanachoAverage rating

8.15

12345678910Squad number9Player nameVardyAverage rating

8.12

12345678910
Substitutes
Squad number11Player nameAlbrightonAverage rating

7.36

12345678910Squad number17Player nameAyoze PérezAverage rating

6.58

12345678910Squad number26Player namePraetAverage rating

6.44

12345678910
FacebookTwitterWhatsAppCopy and share link
West Bromwich Albion
Starting XI
Squad number1Player nameJohnstoneAverage rating

5.54

12345678910Squad number2Player nameFurlongAverage rating

4.43

12345678910Squad number27Player nameO'SheaAverage rating

4.45

12345678910Squad number5Player nameBartleyAverage rating

4.19

12345678910Squad number14Player nameTownsendAverage rating

4.30

12345678910Squad number10Player namePhillipsAverage rating

4.27

12345678910Squad number35Player nameYokusluAverage rating

4.34

12345678910Squad number30Player nameMaitland-NilesAverage rating

4.59

12345678910Squad number7Player nameRobinsonAverage rating

4.48

12345678910Squad number12Player nameMatheus PereiraAverage rating

4.16

12345678910Squad number17Player nameDiagneAverage rating

4.17

12345678910
Substitutes
Squad number4Player nameRobson-KanuAverage rating

4.09

12345678910Squad number6Player nameAjayiAverage rating

4.25

12345678910Squad number29Player nameGrantAverage rating

3.87

12345678910
FacebookTwitterWhatsAppCopy and share linkLine-upsMatch StatsLive Text
Line-ups
Leicester
Formation 3-4-1-2
1Schmeichel3Fofana6Evans4Söyüncü27Castagne25Ndidi8Tielemans33Thomas10Maddison14Iheanacho9Vardy1Schmeichel3FofanaSubstituted forAlbrightonat 62'minutes6Evans4Söyüncü27Castagne25Ndidi8Tielemans33Thomas10MaddisonSubstituted forPérezat 72'minutes14Iheanacho9VardySubstituted forPraetat 85'minutes
Substitutes
11Albrighton12Ward17Pérez18Amartey19Ünder20Choudhury21Ricardo Pereira24Mendy26Praet
West Brom
Formation 4-4-1-1
1Johnstone2Furlong27O'Shea5Bartley14Townsend10Phillips35Yokuslu30Maitland-Niles7Robinson12Costa Pereira17Diagne1Johnstone2Furlong27O'Shea5BartleyBooked at 79mins14Townsend10Phillips35YokusluBooked at 57mins30Maitland-Niles7RobinsonSubstituted forAjayiat 45'minutes12Costa PereiraSubstituted forGrantat 73'minutes17DiagneSubstituted forRobson-Kanuat 61'minutes
Substitutes
4Robson-Kanu6Ajayi8Livermore11Diangana18Gallagher19Sawyers22Peltier25Button29GrantReferee:Andy Madley
Match Stats
Home TeamLeicesterAway TeamWest BromPossessionHome73%Away27%ShotsHome17Away3Shots on TargetHome7Away1CornersHome7Away3FoulsHome13Away12
Live Text
Post update

Match ends, Leicester City 3, West Bromwich Albion 0.