Leicester City 1-0 Southampton: Kelechi Iheanacho earns Foxes first FA Cup final spot since 1969
7 min read
Leicester City boss Brendan Rodgers says his side have "the chance to create history" after reaching their first FA Cup final since 1969 at the expense of Southampton at Wembley.
Kelechi Iheanacho's second-half goal proved decisive for the Foxes, whose last major final of any description came in 2000, when they lifted the League Cup.
"That is what this game is about, creating a memory," said Rodgers, who is yet to win major silverware in English football, but won seven trophies in less than three years as manager of Celtic.
"I have been made aware since I've been at Leicester how important this cup is for the supporters.
"We have the chance to create history. When we arrived here, that was the ambition. From a football perspective we wanted to be able to compete and we have been able to do that. Now we have a trophy to genuinely go for."
Iheanacho, who benefited from Jamie Vardy's fine work to score at the second attempt 10 minutes after the interval, added: "It is a dream come true. I watched the FA Cup when I was little and now I get the chance to play in the final.
"I think the FA Cup loves me and I love the FA Cup."
The game was played in front of 4,000 supporters as part of a pilot scheme, with research being carried out on allowing fans back in to sporting events as coronavirus restrictions are eased.
Tickets were limited to residents of Brent – the north London borough where Wembley Stadium is situated – and key workers.
Those inside Wembley witnessed a mainly dour game but Leicester, playing in their first semi-final since 1982, will not care – and neither will their followers.
Southampton were strangely lacking in intensity, barely threatening Leicester keeper Kasper Schmeichel. Ibrahima Diallo went closest to an equaliser for the Saints but his powerful drive went just wide.
Rodgers' side will now face Chelsea in the final on 15 May, their first appearance in the showpiece since they lost 1-0 against Manchester City 52 years ago.
Reaction as Leicester City reach the FA Cup final
Leicester deserve FA Cup final place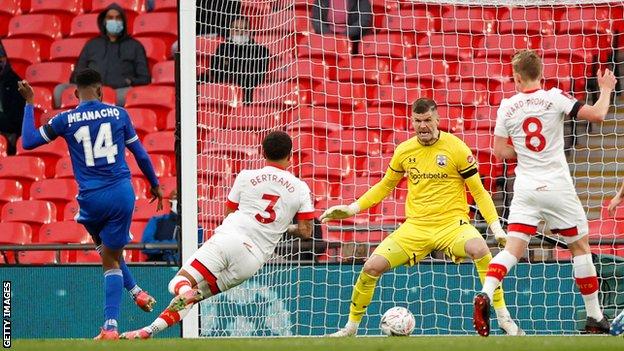 The past four FA Cup goals at Wembley have been scored by African players – Pierre-Emerick Aubameyang, Hakim Ziyech and Kelechi Iheanacho
Leicester fully merited their victory as they were much the more composed and ordered side in a low-key semi-final with few chances.
It took Iheanacho, who scored the winner against Brighton in the fifth round and was on target twice in the 3-1 win against Manchester United in the quarter-final, to make the decisive contribution.
His goal secured a place in the final against Chelsea, who the Foxes beat in the Premier League in January.
And while they will be underdogs, Leicester have enough quality and resilience to be quietly confident.
This FA Cup final appearance is further evidence of the fine work being done by Rodgers, who also has Leicester right in the mix for the Champions League places next season.
Now they have the chance to turn all this endeavour into silverware at Wembley against Thomas Tuchel's side.
Southampton come up short
Southampton will leave Wembley with bitter regrets as they failed to produce anything near their best and can have no complaints about the outcome.
They showed little of the intensity and energy that is their trademark when at their best under manager Ralph Hasenhuttl.
The Saints lacked ambition and positive intent apart from a brief revival a couple of minutes after Leicester scored, when Diallo was not far off target and there was a scramble after a corner.
Main marksman Danny Ings cut a frustrated figure, starved of service and reduced mainly to chasing lost causes.
"That such a goal decides such a game is a pity for us," said Hasenhuttl.
"In the end, especially in the final third, we didn't have good moments. We couldn't get a shot on goal and this is not enough."
This will be a real blow to Southampton, who fancied their chances in the FA Cup this season and had a big opportunity to reach the final, but they came up short and must now return to ensuring their Premier League status.
Fans make Wembley return
This was the biggest crowd at a football match in England since the country went into lockdown in March last year – and what a glorious sound it was as the Leicester and Southampton players came out to cheers from 4,000 fans inside Wembley, reciprocating the gesture as they lined up before kick-off.
It did not have the partisanship and passion of the tradition football crowd because this was a test and research event with only locals and key workers in attendance.
There were moments, however, especially when Leicester scored and when Southampton substitute Theo Walcott came on to a very loud, mixed reception – presumably from Arsenal fans inside Wembley who idolised him from his time with the Gunners and Tottenham supporters who took the opposite view.
There were resounding cheers when the supporters were thanked over the public address system for their attendance and the hope is that this test event will help navigate a route out of the behind-closed-doors occasions that have been the way of things during lockdown.
The sight and sound of fans added to the spectacle, even when most of those watching this FA Cup semi-final were neutrals.
'It feels amazing' – what they said
Leicester boss Brendan Rodgers, speaking to BBC Sport: "It feels amazing. I thought we deserved it, the players worked so hard. Commiserations to Southampton, they are a terrific team.
"We got the goal which was a great piece of play by Jamie [Vardy]. We had two or three moments after that to close it out. When you are 1-0 up, you have to show that self-control and stay calm and we did that.
"Even thought there were only 4,000 fans, it felt great. It will be amazing when we get supporters back into stadiums. I did hear some Leicester supporters in there and it was really nice."
Southampton boss Ralph Hasenhuttl, speaking to BBC Sport: "We conceded our first goal in the FA Cup. [It is] Hard to take because we haven't been the worst team. We tried to put pressure on them. We saw a not very good football game to be honest, with both teams a little nervous.
"We had the chance to get to the final. We will try again next year."
Leicester's long wait ends – the stats
Leicester City have reached their first FA Cup final since 1969, a gap of 52 years, the longest between finals since Portsmouth went 69 and Cardiff went 81 between finals before facing one another in 2008.Southampton have now been eliminated in eight of their past 10 FA Cup semi-final appearances, two of which have come in the past four seasons (2017-18 vs Chelsea, 2020-21 vs Leicester).This was only Leicester's fourth win in 15 appearances at Wembley (D1 L10) and their first since the 2000 League Cup final against Tranmere, while Southampton have lost eight of their 10 matches at Wembley (W2), losing their last five in a row.Since his debut in the FA Cup in January 2016, Kelechi Iheanacho has scored more goals in the competition (first round onwards) than any other player, netting 14 times in 19 games.Iheanacho is the first Nigerian player to score 15 goals in all competitions in a season for a Premier League club since Odion Ighalo in 2015-16 for Watford, who scored 17.Southampton failed to have a single shot in the first half, the first time that had happened since November 2019 against Everton in a Premier League game.Only Sheffield United (13) have lost more games in all competitions in 2021 among Premier League clubs than Southampton (12).Jamie Vardy has gone 11 games without a goal in all competitions for Leicester, his longest goal drought since a run of 16 games between September – December 2016.
What's next?
Leicester return to action when they host West Bromwich Albion in the Premier League on Thursday, 22 April (20:00 BST).
Southampton travel to Tottenham for their next match in the Premier League on Wednesday, 21 April (18:00 BST).
Player of the match
IheanachoKelechi Iheanacho
with an average of 7.97LeicesterLeicester CityLeicester CitySouthamptonSouthamptonSouthampton
Leicester City
Squad number14Player nameIheanachoAverage rating

7.97

Squad number6Player nameEvansAverage rating

7.10

Squad number9Player nameVardyAverage rating

7.10

Squad number8Player nameTielemansAverage rating

7.08

Squad number25Player nameNdidiAverage rating

7.07

Squad number11Player nameAlbrightonAverage rating

6.94

Squad number3Player nameFofanaAverage rating

6.90

Squad number4Player nameSöyüncüAverage rating

6.79

Squad number1Player nameSchmeichelAverage rating

6.74

Squad number27Player nameCastagneAverage rating

6.64

Squad number10Player nameMaddisonAverage rating

6.48

Squad number21Player nameRicardo PereiraAverage rating

6.47

Squad number17Player nameAyoze PérezAverage rating

6.39
Southampton
Squad number44Player nameForsterAverage rating

5.35

Squad number9Player nameIngsAverage rating

5.28

Squad number8Player nameWard-ProwseAverage rating

5.27

Squad number17Player nameArmstrongAverage rating

5.18

Squad number4Player nameVestergaardAverage rating

5.13

Squad number2Player nameWalker-PetersAverage rating

5.12

Squad number10Player nameAdamsAverage rating

5.03

Squad number35Player nameBednarekAverage rating

4.75

Squad number3Player nameBertrandAverage rating

4.66

Squad number12Player nameDjenepoAverage rating

4.66

Squad number22Player nameSalisuAverage rating

4.65

Squad number27Player nameDialloAverage rating

4.63

Squad number11Player nameRedmondAverage rating

4.49

Squad number23Player nameTellaAverage rating

4.45

Squad number32Player nameWalcottAverage rating

4.06
Line-upsMatch StatsLive Text
Line-ups
Leicester
Formation 3-4-1-2
1Schmeichel3Fofana6Evans4Söyüncü27Castagne25Ndidi8Tielemans21Ricardo Pereira17Pérez14Iheanacho9Vardy1Schmeichel3Fofana6Evans4SöyüncüBooked at 49mins27Castagne25Ndidi8Tielemans21Ricardo PereiraSubstituted forAlbrightonat 60'minutes17PérezSubstituted forMaddisonat 69'minutes14Iheanacho9Vardy
Substitutes
10Maddison11Albrighton12Ward18Amartey19Ünder20Choudhury24Mendy26Praet33Thomas
Southampton
Formation 4-4-2
44Forster2Walker-Peters35Bednarek4Vestergaard3Bertrand17Armstrong8Ward-Prowse27Diallo12Djenepo11Redmond9Ings44Forster2Walker-PetersSubstituted forTellaat 85'minutes35BednarekBooked at 90mins4Vestergaard3BertrandSubstituted forSalisuat 85'minutes17Armstrong8Ward-Prowse27DialloBooked at 5mins12DjenepoSubstituted forWalcottat 73'minutes11RedmondSubstituted forAdamsat 59'minutes9Ings
Substitutes
1McCarthy5Stephens10Adams22Salisu23Tella32Walcott40N'Lundulu47Ferry64JankewitzReferee:Chris KavanaghAttendance:4,000
Match Stats
Home TeamLeicesterAway TeamSouthamptonPossessionHome49%Away51%ShotsHome10Away6Shots on TargetHome1Away0CornersHome3Away2FoulsHome12Away7
Live Text
Post update

Match ends, Leicester City 1, Southampton 0.