Lionel Messi wins first Copa America as Argentina beat Brazil in final
3 min read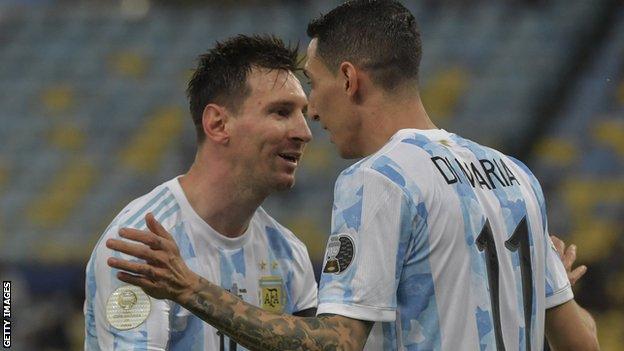 Lionel Messi celebrated Angel di Maria's decisive goal
Lionel Messi ended his wait for a first major international title as Argentina beat Brazil in the Copa America final in Rio's Maracana stadium.
Messi, 34, finally claimed top-level honours with his country in his 10th major tournament – while Argentina won their first Copa America in 28 years.
Angel Di Maria proved the matchwinner, with his superb lob the only goal of the game.
Messi had a chance to sign off the win but slipped with the goal at his mercy.
Everton forward Richarlison had Brazil's best chances, seeing an effort ruled out for offside and then stinging the fingers of keeper Emi Martinez, who also saved from Gabriel Barbosa, but the defending champions fell short in a disappointing performance.
How Copa America final unfoldedMessi becomes Argentina's most capped playerWhy Messi is the greatest – Lineker
It means Messi's opposite number 10 and former Barcelona team-mate Neymar's own personal pursuit of international success continues, having missed Brazil's 2019 Copa win through injury.
The game was watched by a small crowd of 7,000 invited guests, because of Covid-19 restrictions, but was the first of the tournament to have spectators in attendance.
The sparse home supporters made their voices heard, though, particularly every time Messi touched the ball, booing and jeering the forward.
The tournament, delayed by a year because of the coronavirus pandemic and moved from initial co-hosts Colombia and Argentina, was switched to 2019 hosts Brazil in a last-minute decision which received criticism in light of a surge in coronavirus cases in the country.
More to follow.
Messi at the World Cup
Country
Played
Won
Lost
Minutes
Goals
Stage
2006
3
2
0
121
1
QF
2010
5
4
1
450
0
QF
2014
7
5
1
693
4
RU
2018
4
1
2
360
1
L16
TOTALS
19
12
4
1624
6
Figures provided by Stats Perform
Messi at Copa America
Country
Played
Won
Lost
Minutes
Goals
Stage
2007
6
5
1
456
2
RU
2011
4
1
0
390
0
QF
2015
6
3
0
570
1
RU
2016
5
4
0
374
5
RU
2019
6
3
2
487
1
SF
2021
6
4
0
540
4
TOTALS
33
20
3
2817
13
Figures provided by Stats Perform
Line-upsMatch StatsLive Text
Line-ups
Argentina
Formation 4-4-2
23Martínez4Montiel13Romero19Otamendi8Acuña11Di María7de Paul5Paredes20Lo Celso10Messi22Martínez23Martínez4MontielBooked at 89mins13RomeroSubstituted forPezzellaat 79'minutes19OtamendiBooked at 81mins8Acuña11Di MaríaSubstituted forPalaciosat 79'minutes7de PaulBooked at 68mins5ParedesBooked at 33minsSubstituted forRodríguezat 54'minutes20Lo CelsoBooked at 51minsSubstituted forTagliaficoat 63'minutes10Messi22MartínezSubstituted forGonzálezat 79'minutes
Substitutes
1Armani3Tagliafico6Pezzella9Agüero12Marchesín14Palacios15González18Rodríguez21Correa24Gómez25Martínez26Molina
Brazil
Formation 4-3-3
23Ederson2Danilo4Marquinhos3Thiago Silva16Lodi dos Santos17Tolentino Coelho de Lima5Casemiro8Fred19Sousa Soares10Neymar7Richarlison23Ederson2Danilo4MarquinhosBooked at 82mins3Thiago Silva16Lodi dos SantosBooked at 70minsSubstituted forLeite de Souza Juniorat 76'minutes17Tolentino Coelho de LimaBooked at 72minsSubstituted forBarbosa Almeidaat 76'minutes5Casemiro8FredBooked at 3minsSubstituted forFirminoat 45'minutes19Sousa SoaresSubstituted forVinícius Júniorat 63'minutes10Neymar7Richarlison
Substitutes
1Alisson6Lobo Silva11de Barros Ribeiro12Pereira da Silva13Leite de Souza Junior14Militão15Fabinho18Vinícius Júnior20Firmino21Barbosa Almeida22Rech Ortiz25Douglas LuizReferee:Esteban Ostojich
Match Stats
Home TeamArgentinaAway TeamBrazilPossessionHome41%Away59%ShotsHome6Away13Shots on TargetHome2Away2CornersHome1Away4FoulsHome19Away22
Live Text
Post update

Match ends, Argentina 1, Brazil 0.