Liverpool 1-1 Newcastle United: Joe Willock scores 95th-minute equaliser at Anfield
5 min read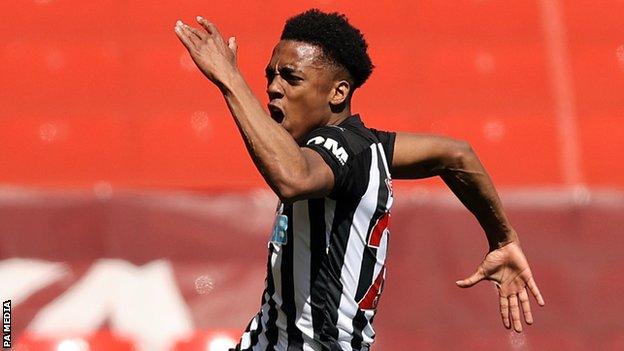 Joe Willock has scored four goals in 10 Premier League appearances for Newcastle, having netted just once in 40 league games for Arsenal
Newcastle substitute Joe Willock scored a dramatic but deserved 95th-minute equaliser to deny Liverpool a much-needed win in their pursuit of Champions League football.
Mohamed Salah's early goal appeared to have put the champions on track for a vital three points as they chase a top-four finish at the end of a disappointing season.
But despite dominating early on, Jurgen Klopp's side were unable to finish the game off and were given a lifeline they failed to take when Callum Wilson's last-minute equaliser was ruled out for handball.
Steve Bruce's much-improved visitors kept up the late pressure and were rewarded when Willock fired in for the third match in a row with the last kick of the game to strengthen their own position at the bottom of the table.
Reds fans must now look on as West Ham and Chelsea – both a point ahead of their sixth-placed side – meet later on Saturday.
Follow reaction and live text commentary of Saturday's matches hereEuropean Super League Q&A: Why it failed – and will clubs try again?
Liverpool fade again
It was already a season to forget for Liverpool with a meek title defence and trophyless campaign, even before the off-field distraction of this week's aborted interest in the European Super League.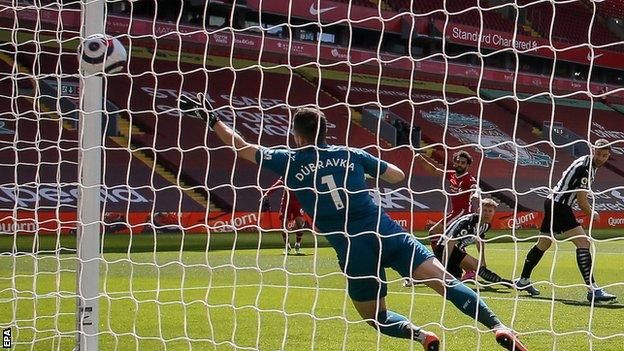 Mohamed Salah is the first Liverpool player to score at least 20 goals in three different Premier League seasons
There were muted protests against the club's owners as the team coach arrived at Anfield but the players themselves were loudly cheered and the disruption was nothing like that seen at Arsenal on Friday night.
Salah's superb early goal, spinning to control a clearance and smash in what is – remarkably – Liverpool's first first-half goal at home in 2021, seemed to set them on track for a win that would calm matters on and off the pitch.
Jurgen Klopp lined up Sadio Mane, Roberto Firmino and Diogo Jota alongside Salah in an attacking line-up and they all had chances, with Magpies keeper Martin Dubravka making eight saves in a solid if unspectacul ar showing.
But as the game wore on Liverpool's intensity and drive faded, an all-too-familiar sight in recent months.
Newcastle's late rally meant two more dropped points for the home side and a disappointing season that may yet end without even a Champions League place next term.
Magpies safe now?
Newcastle came into the game on the back of a run of one defeat in seven games that had steered them away from danger, and their last-ditch Anfield exploits have now pushed them nine points ahead of Fulham in 18th place. Surely they are safe?
Bruce has been heavily criticised for his approach throughout his time in charge and Newcastle's defensive, containing 5-4-1 shape had no immediate effect as Salah crashed in following Ciaran Clark's poor clearing header.
But in Allan Saint-Maximin the visitors had the game's most lively attacker and he carried a threat single-handedly for most of the match.
Joelinton then could, maybe should have equalised but Alisson kept out his effort before Wilson scrambled in at the second attempt. But the ball did hit his arm and VAR ruled it out.
Many teams would have crumbled at such late disappointment so all credit to Newcastle for going again, and Willock was sure in his finish as he drilled in via a deflection from 10 yards out.
Milner's new record – the stats
After a run of eight defeats in 10 league games, Newcastle have lost just one of their past eight in the Premier League (W2 D5).Despite conceding a 90th-minute equaliser, Liverpool extended their unbeaten home run against Newcastle in the Premier League to 25 games (W20).Liverpool have kept just three home clean sheets in the Premier League this season, conceding at least once in each of their past eight at Anfield in the competition.At 94 minutes and 58 seconds, Joe Willock's equaliser for Newcastle was the latest goal Liverpool have conceded at Anfield in a Premier League game since exact goal times have been available (2006-07).Newcastle's Joe Willock became the first player to score a 90th-minute equalising or winning Premier League goal against Liverpool at Anfield since Harry Kane for Spurs in February 2018.Mohamed Salah's strike after two minutes and 59 seconds was Liverpool's earliest home goal in a Premier League game since April 2019, when Naby Keita scored after 15 seconds against Huddersfield.Liverpool's James Milner made his 159th appearance as a substitute in the Premier League, overtaking Peter Crouch as the all-time record holder for sub appearances in the competition.
What's next?
Liverpool have the small matter of a trip to Old Trafford next Sunday to take on Manchester United, while Newcastle welcome Arsenal on the same day.
Player of the match
WillockJoseph Willock
with an average of 8.47LiverpoolLiverpoolLiverpoolNewcastleNewcastle UnitedNewcastle United
Liverpool
Squad number1Player nameAlissonAverage rating

4.96

Squad number26Player nameRobertsonAverage rating

4.92

Squad number6Player nameThiago AlcántaraAverage rating

4.90

Squad number3Player nameFabinhoAverage rating

4.73

Squad number66Player nameAlexander-ArnoldAverage rating

4.68

Squad number19Player nameKabakAverage rating

4.67

Squad number20Player nameDiogo JotaAverage rating

4.61

Squad number7Player nameMilnerAverage rating

4.53

Squad number10Player nameManéAverage rating

4.39

Squad number9Player nameRoberto FirminoAverage rating

4.32

Squad number11Player nameMohamed SalahAverage rating

4.27

Squad number17Player nameJonesAverage rating

4.00

Squad number5Player nameWijnaldumAverage rating

3.53
Newcastle United
Squad number28Player nameWillockAverage rating

8.47

Squad number10Player nameSaint-MaximinAverage rating

7.72

Squad number13Player nameWilsonAverage rating

7.65

Squad number1Player nameDubravkaAverage rating

7.45

Squad number23Player nameMurphyAverage rating

6.69

Squad number11Player nameRitchieAverage rating

6.68

Squad number24Player nameAlmirónAverage rating

6.61

Squad number12Player nameGayleAverage rating

6.56

Squad number18Player nameFernándezAverage rating

6.50

Squad number3Player nameDummettAverage rating

6.41

Squad number2Player nameClarkAverage rating

6.32

Squad number8Player nameShelveyAverage rating

6.30

Squad number36Player nameS LongstaffAverage rating

6.28

Squad number9Player nameJoelintonAverage rating

5.99
Line-upsMatch StatsLive Text
Line-ups
Liverpool
Formation 4-4-2
1Alisson66Alexander-Arnold3Fabinho19Kabak26Robertson11Salah5Wijnaldum6Thiago Alcántara10Mané9Firmino20Jota1Alisson66Alexander-Arnold3FabinhoBooked at 89mins19KabakBooked at 9mins26Robertson11Salah5Wijnaldum6Thiago AlcántaraSubstituted forJonesat 77'minutes10Mané9Firmino20JotaSubstituted forMilnerat 58'minutes
Substitutes
7Milner8Keita13Adrián15Oxlade-Chamberlain17Jones21Tsimikas23Shaqiri46R Williams76N Williams
Newcastle
Formation 5-3-2
1Dubravka23Murphy18Fernández2Clark3Dummett11Ritchie24Almirón36S Longstaff8Shelvey10Saint-Maximin9Joelinton1Dubravka23Murphy18FernándezBooked at 16mins2ClarkSubstituted forWillockat 64'minutes3Dummett11Ritchie24AlmirónSubstituted forGayleat 85'minutes36S Longstaff8Shelvey10Saint-Maximin9JoelintonSubstituted forWilsonat 60'minutes
Substitutes
7Carroll12Gayle13Wilson15Lewis16Hendrick17Krafth19Manquillo28Willock29GillespieReferee:Andre Marriner
Match Stats
Home TeamLiverpoolAway TeamNewcastlePossessionHome69%Away31%ShotsHome22Away7Shots on TargetHome9Away4CornersHome6Away3FoulsHome9Away7
Live Text
Post update

Match ends, Liverpool 1, Newcastle United 1.