Monaco Grand Prix: Charles Leclerc on pole position despite crash
13 min read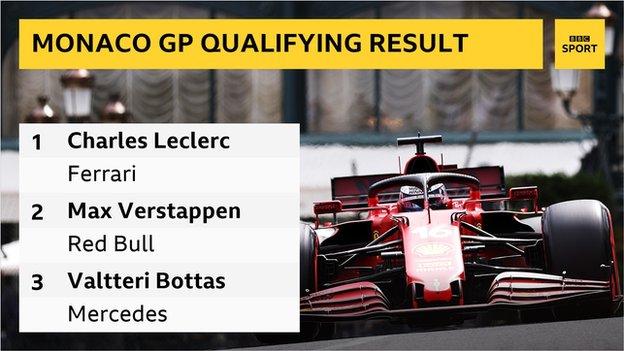 The Monaco Grand Prix is live on 5 Live Sports Extra and the BBC Sport website
Charles Leclerc took a surprise pole position for Ferrari at the Monaco Grand Prix despite crashing on his last run of qualifying.
Lewis Hamilton could manage only seventh on the grid for Mercedes as title rival Max Verstappen took second for Red Bull.
Mercedes driver Valtteri Bottas was third, from Ferrari's Carlos Sainz.
Monaco Grand Prix full qualifying results How qualifying for the Monaco Grand Prix unfolded
Leclerc's first flying lap in final qualifying was enough for pole but his crash curtailed what had looked set to be a thrilling climax to the session.
It was Ferrari's first pole since 26 October, 2019, when Leclerc was fastest at the 2019 Mexican Grand Prix.
The Ferraris have been on the pace all weekend and went into qualifying looking set to fight for pole position with Verstappen and the Mercedes drivers.
Leclerc delivered on his team's potential with a strong performance at his home race. He was fastest in second qualifying and then 0.24 seconds quicker than Verstappen on his first lap of the final session.
The drivers had one last chance to shoot for pole, but while Verstappen was on course to beat Leclerc's first time by the time the Red Bull had exited the tunnel, Leclerc misjudged the entry to the second chicane around the swimming pool section and hit the wall, bringing the session to an end.
It was the classic accident at that corner – Leclerc clipped the wall with his inside wheel on the first right-hand section, bounced over the kerb on the second, left-handed part, and smashed into the wall on the outside.
Leclerc said: "It is a shame to finish in the wall. It doesn't feel the same but at the same time I am incredibly happy about my first timed lap. The first sector did not go well but I nailed the second and third sectors.
"It is a big surprise to be on pole and in fourth place."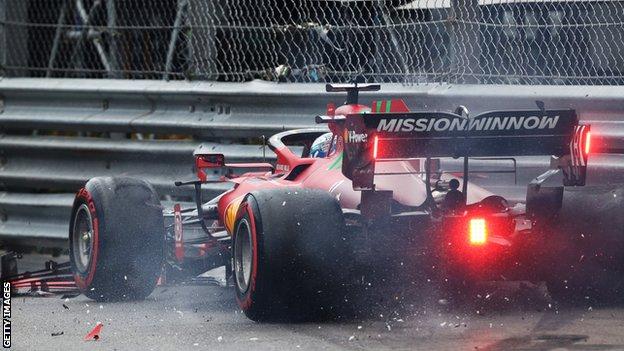 "It's a shame to finish in the wall," Leclerc said of his crash
However, there is a risk that he could lose the place. If his gearbox is damaged enough to need replacing, he will be given a five-place grid penalty.
Leclerc was asked after the session whether he was worried about this, and replied: "I am, but let's see."
Leclerc said he had brushed the wall in the same place on the lap that secured him pole and went too far on his next attempt.
"I was 0.15secs off or something like this (at that point)," he said. "I took too much the inside on my fast lap – if you watch it, I think I touched the wall, too, but not as hard as on the second timed lap. I tried to go for a bit more on the second lap and I basically bounced it off, But it was a misjudgement."
The crash revived memories of an infamous incident in 2006, when Michael Schumacher pretended to crash and parked his car at Rascasse in an attempt to secure pole, but was later demoted to the back of the grid.
Leclerc said, in reference to the serious risk to his grid position of potential gearbox damage: "If I was doing it on purpose, I would have made sure to hit the wall a bit less hard."
Verstappen said: "It was unfortunate with the red flag. I felt really comfortable with qualifying.
"(On my final run), I was 0.15secs up and I knew I had made a mistake on the first run on T10 which cost 0.1secs. So pole was on. But that is if, buts, maybes."
He pointed out that he had made mistakes at the same corner as Leclerc on two previous occasions in Monaco: "There is a difference when a driver makes a mistake or does it intentionally, but he just clipped the wall and ended up where I have ended up twice. I am disappointed not to have a shot at pole but that's life."
Bottas said he was "gutted" not to get a final chance to improve on third place.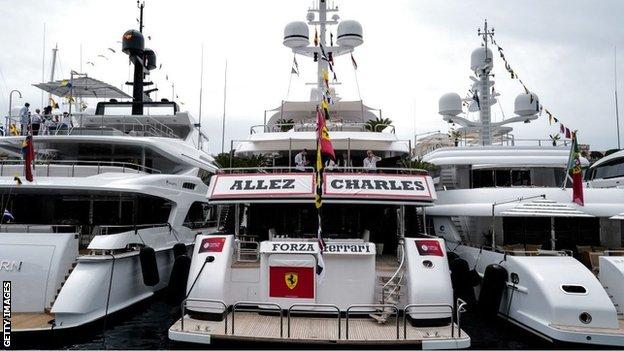 Local fans have been cheering on Monegasque Leclerc all weekend
What happened to Hamilton?
Hamilton never looked quick at any point throughout qualifying, lagging behind his team-mate throughout and struggling with lack of grip, particularly caused by struggles with getting the front tyres up to the right temperature.
He ended the session more than 0.4secs behind Bottas, and behind also McLaren's Lando Norris and Alpha Tauri's Pierre Gasly, and faces the real prospect of Verstappen taking a big chunk out of his championship lead.
Hamilton goes into the race 14 points ahead of Verstappen but with overtaking so difficult around Monaco the Dutchman has a great chance to eat significantly into Hamilton's advantage.
"Today was a question of tyres not working," said Hamilton. "Just sliding around. It wasn't feeling bad on Thursday. I think we were closer to the front on Thursday. But we've not gone the right direction over the last day and today was the result of that."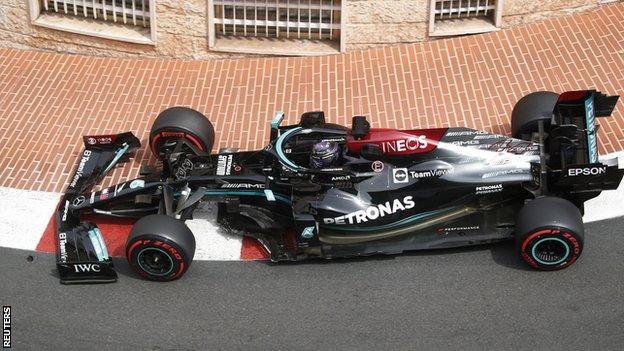 Hamilton leads the drivers' championship by 14 points
Struggles continue for Alonso and Ricciardo
Further back, struggles in 2021 continued for two giants of F1.
Daniel Ricciardo could qualify only 12th for McLaren, more than 0.5secs off team-mate Norris in second qualifying, and Fernando Alonso did not even make it out of the first session in his Alpine.
The Spanish double world champion, back in F1 this year after two years away, was 17th.
Alonso was 0.465secs slower in Q1 than team-mate Esteban Ocon, who ended up 11th.
George Russell was 15th for Williams as the team celebrate their 750th grand prix.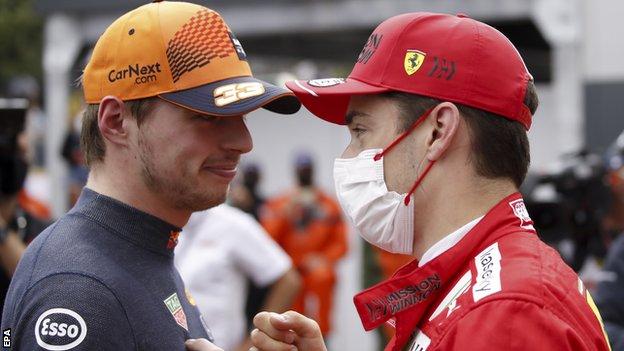 Leclerc, who will share the front row with Verstappen, has never won his home race in Monaco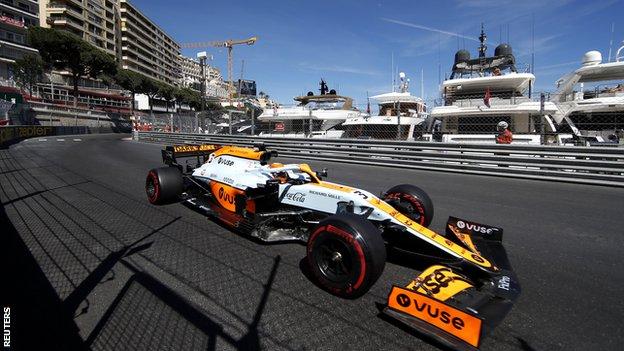 Ricciardo was disappointed to be off the pace in qualifying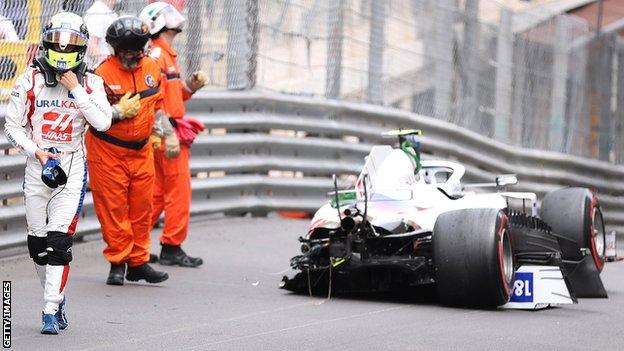 Haas rookie Mick Schumacher missed qualifying after suffering a big crash at the end of final practice


Why do we love wrestling?: Mark Andrews talks to some of the biggest names in the sport about what it means to themFive healthy habits to start today: Dr Alex's top tips to making long-term meaningful changecommentsView Comments219
Comments
Join the conversation
To use comments you will need to have JavaScript enabled.
219 commentsShowLatestOldestHighest RatedMost RepliedT
Comment posted by thenestofvipers, today at 16:13thenestofvipers
16:13Wel, that's the best part of the Monaco weekend over with now.866I
Reply posted by I Am Not Lord Lucan, today at 17:28I Am Not Lord Lucan
17:28to thenestofvipers"Wel, that's the best part of the Monaco weekend over with now."I Am Not Lord Lucan replied: Hamilton has a bad qualifying, BBC immediately open the comments. How predictable.722More replies (4)downT
Comment posted by TJ, today at 16:15TJ
16:15Just can't see the point of using a track renowned for seeing so few overtakes, fans want to see racing not a procession.8015R
Reply posted by Rhino1988, today at 16:34Rhino1988
16:34to TJ"Just can't see the point of using a track renowned for seeing so few overtakes, fans want to see racing not a procession."Rhino1988 replied: I think it's more to do with the provenance and history, as a spectacle I can forgive it for just one race! For me, there's a certain 'feeling to Monaco which can't really be put into words.1918More replies (8)down2
Comment posted by 2020vision, today at 16:182020vision
16:18Norris is undoubtedly the pick of 2021, but he only gets a mention in regard as an obstacle for Hamilton, or that Ricciardo was 0.5secs slower, yet Russell gets his brief but own paragraph, what's the media got against this young charger.554T
Reply posted by thenestofvipers, today at 16:46thenestofvipers
16:46to 2020vision"Norris is undoubtedly the pick of 2021, but he only gets a mention in regard as an obstacle for Hamilton, or that Ricciardo was 0.5secs slower, yet Russell gets his brief but own paragraph, what's the media got against this young charger."thenestofvipers replied: You have to go to a proper F1 news site for a decent, impartial insight into how each team and driver performed and what were their foibles. BBC sport, is a bit like WHSmiths now- they do a bit of everything but specialise in nothing.323More replies (4)downT
Comment posted by The-Artful-Dodga, today at 16:19The-Artful-Dodga
16:19Probably more interesting if they went round in go-karts. Inadequate for F1 now.5710H
Reply posted by Haveawalkinmyshoes, today at 18:03Haveawalkinmyshoes
18:03to The-Artful-Dodga"Probably more interesting if they went round in go-karts. Inadequate for F1 now."Haveawalkinmyshoes replied: I agree. Who really wants to watch a procession. Monaco is a relic of the past.00E
Comment posted by Embattle, today at 16:45Embattle
16:45Monaco remains and always will be the worst race of the season.488A
Reply posted by and reelaaaxx, today at 17:49and reelaaaxx
17:49to Embattle"Monaco remains and always will be the worst race of the season."and reelaaaxx replied: Yep. If the monaco track was anywhere else it would have been dropped years ago. But it is where it is, monaco needs it for the revenue, so here it stays!50A
Comment posted by Albert, today at 16:46Albert
16:46Another Monaco Fiasco!
When are F1 going to be brave enough to ditch this terrible circuit?3911B
Reply posted by BenRinnes, today at 16:49BenRinnes
16:49to Albert"Another Monaco Fiasco!When are F1 going to be brave enough to ditch this terrible circuit?"BenRinnes replied: They won't. The rich tax dodgers need somewhere to show of their wealth to us poor people lol325More replies (4)downT
Comment posted by thenestofvipers, today at 16:12thenestofvipers
16:12Gutted…..I had Sainz at 25/1 for pole. Ruined his lap and he was up on Leclerc.

As an aside, it's nice to see Vettel improving in the Aston- has been on the up in the last race as well253G
Comment posted by Gergio Sarcia, today at 16:10Gergio Sarcia
16:10Still don't know why they can't use a different layout round Monaco. As LH said there are plenty of other roads that are wider. Will be a procession tomorrow, if Danny Ric could hold off the chasing pack with a GP2 engine a couple of years ago then there's zero chance of a good race to watch. Unless it rains, which it won't.2610G
Comment posted by gedohu, today at 16:07gedohu
16:07Anyone who genuinely thinks that crash was deliberate has no idea about Formula 1.3420D
Reply posted by Dave, today at 16:10Dave
16:10to gedohu"Anyone who genuinely thinks that crash was deliberate has no idea about Formula 1."Dave replied: It obviously wasn't deliberate. Bit too embarrassing for any driver to have done it on purpose.126More replies (6)downR
Comment posted by Ruud, today at 16:52Ruud
16:52Bottas to take out verstappen in turn one. You heard it here first.121B
Reply posted by BenRinnes, today at 16:54BenRinnes
16:54to Ruud"Bottas to take out verstappen in turn one. You heard it here first."BenRinnes replied: I'd prefer it the other way around. Then it's all Verstappen's fault. Would be a joy to see Horner's face if that happened.159More replies (3)downU
Comment posted by unconvinced, today at 17:07unconvinced
17:07It would be far more exciting if they dressed up as characters from Mariocart and drove around in carts, Monaco is truly pointless a couple of hours watching everyone drive on the same Scalextric lane.122B
Reply posted by Baron of Brierdene, today at 17:17Baron of Brierdene
17:17to unconvinced"It would be far more exciting if they dressed up as characters from Mariocart and drove around in carts, Monaco is truly pointless a couple of hours watching everyone drive on the same Scalextric lane."Baron of Brierdene replied: It may be old age but the circuit seemed wider in the 60's and 70's. And the cars weren't that much narrower. Check out "Black Jack" stuffing it at the Gasworks on the last lap of the 1970 race.00S
Comment posted by Skcania, today at 16:11Skcania
16:11Not a bad qualifying session, but the race is likely to be dull – a driver's track rather than a spectators' track – unless a few cars do what leclerc did 😜133M
Comment posted by Matthew , today at 16:15Matthew
16:15Brilliant Charles. Congrats, shame about the crash at the end though.123I
Comment posted by Isenbird Braines Mucking Fuddle, today at 17:16Isenbird Braines Mucking Fuddle
17:16Before he resigned as Director General – Lord (Tony) Hall declared that the BBC must continue to cover Formula 1 despite it being an abomination to the tree hugging environmentalists such as Sir Dave, Prince Chuck and Saint Greta – Lord Hall is believed to have said "Smoke 'em to Hades".81C
Comment posted by cliff, today at 16:46cliff
16:46For many, many years the race in Monaco has been a bore fest. It's just more obvious than the other modern circuits that the only overtaking is in the pit strategy.

Let's make the race more exciting by taking a variable amount of fuel out of the cars without telling anyone, then we can run a sweep on who will be first/next to run out, and recreate the 82 race.

Watched qualifying, Sunday free!103I
Comment posted by Isenbird Braines Mucking Fuddle, today at 17:24Isenbird Braines Mucking Fuddle
17:24Just received assurance from Justin Rowlatt (BBC Enviro Correspondent) – that BBC Formula 1 coverage is essentially Green – Justin said "Can't say more now as flying to Antarctica – check if its still there – Laters!"60O
Comment posted by oobiedoobie, today at 16:15oobiedoobie
16:15Strategy will be key tomorrow, hope the Ferrari boys get their car sorted ready for the race but it will be interesting to see how Valtieri starts off with Max just ahead of him.82T
Comment posted by The Right Opinion, today at 17:12The Right Opinion
17:12A Ferrari crashing (lightly) in final part of quality whilst on provisional pole?? Whoda thunk it?

Not like they've not got previous for it.

Pole on a track with one overtaking zone for a manufacturer who sell lots of their product to Monaco residents…… hmmm94B
Comment posted by Baron of Brierdene, today at 16:42Baron of Brierdene
16:42I wonder how many of the keyboard warriors realise that all the cars have to pass scrutineering at every race. And questions have been raised over the Mercedes front wing flexing. Don't forget Monaco is an ultra high downforce circuit so a so-called flexi-wing would actually be a drawback. As for a deliberate crash? Desperation to justify a poor qualifying by their favourite driver.1712F
Reply posted by Foxes, today at 16:46Foxes
16:46to Baron of Brierdene"I wonder how many of the keyboard warriors realise that all the cars have to pass scrutineering at every race. And questions have been raised over the Mercedes front wing flexing. Don't forget Monaco is an ultra high downforce circuit so a so-called flexi-wing would actually be a drawback. As for a deliberate crash? Desperation to justify a poor qualifying by their favourite driver."Foxes replied: The crash wasn't deliberate, Max seemed to be the one who was the most unfortunate, looked on a good lap. Hope there isn't too much damage to leclercs car though and we actually have a decent race at Monaco63More replies (1)downO
Comment posted by onekop, today at 17:35onekop
17:35Will be a couple of safety cars and rain will arrive just as LH is near the pits so can go on to wets and the others are on slicks out on the course so saint lewis will take the lead when the others pit. And before everyone starts he is an exceptional driver but he does get one hell of a lot lucky breaks during a season.62D
Reply posted by Dont Forget The Great Ronnie Peterson, today at 17:39Dont Forget The Great Ronnie Peterson
17:39to onekop"Will be a couple of safety cars and rain will arrive just as LH is near the pits so can go on to wets and the others are on slicks out on the course so saint lewis will take the lead when the others pit. And before everyone starts he is an exceptional driver but he does get one hell of a lot lucky breaks during a season."Dont Forget The Great Ronnie Peterson replied: I'm not a LH fan but perhaps he makes his own luck.
He has certainly demonstrated too many times what an exceptional driver he is.
I don't agree he is the GOAT, nor do I agree with knighting him while he is still racing, but I admire how he gets the best from his team and machinery.20More replies (2)downMore commentsBack to topunknown
Source