Parma 1-3 AC Milan: Zlatan Ibrahimovic sent off in Serie A win
2 min read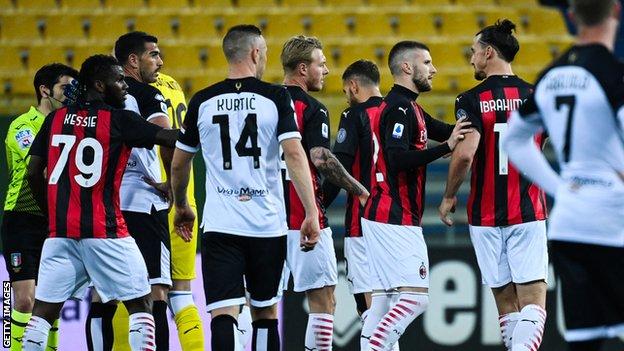 Since Zlatan Ibrahimovic first joined Milan in the 2010-11 season, only Gabriel Paletta (five) has been sent off for them in Serie A more than the Swede (four)
Zlatan Ibrahimovic was sent off for dissent as AC Milan beat Parma to maintain their slim Serie A title hopes.
The 39-year-old Sweden striker was shown a straight red card after an hour for saying something to the referee, with his side 2-0 up.
He had set up Ante Rebic for the first and was involved in Franck Kessie's goal just before the break.
Riccardo Gagliolo gave Parma hope but Rafael Leao clinched it in injury time.
"Zlatan told me that he argued with the referee and it lasted some time," Milan coach Stefano Pioli told Sky Sport Italia. "He assured me that he did not disrespect him and above all he did not offend."
Milan are eight points behind leaders Inter Milan, who face Cagliari on Sunday.
Before the game, Milan technical director Paolo Maldini said Ibrahimovic was close to signing a new deal with the club.
Line-upsMatch StatsLive Text
Line-ups
Parma
Formation 4-3-3
1Sepe5Conti13Bani7Gagliolo3Pezzella98Man14Kurtic23Azevedo Júnior33Kucka9Pellè27Kouassi1Sepe5ContiSubstituted forTraorèat 85'minutes13BaniBooked at 10mins7GaglioloBooked at 38mins3PezzellaBooked at 37minsSubstituted forBusiat 74'minutes98Man14Kurtic23Azevedo JúniorSubstituted forGrassiat 61'minutes33KuckaBooked at 63mins9Pellè27KouassiSubstituted forCorneliusat 45'minutes
Substitutes
8Grassi11Cornelius15Brugman16Laurini22Bruno Alves24Osorio29Dierckx30Valenti34Colombi35Traorè37Camara42Busi
AC Milan
Formation 4-2-3-1
99G Donnarumma20Kalulu24Kjaer23Tomori19Hernández79Kessié4Bennacer56Saelemaekers10Calhanoglu12Rebic11Ibrahimovic99G Donnarumma20KaluluSubstituted forGabbiaat 78'minutes24Kjaer23Tomori19HernándezBooked at 78mins79KessiéBooked at 80mins4BennacerSubstituted forMeitéat 72'minutesBooked at 90mins56SaelemaekersSubstituted forDalotat 72'minutes10CalhanogluBooked at 24minsSubstituted forKrunicat 77'minutes12RebicSubstituted forda Conceição Leãoat 84'minutes11IbrahimovicBooked at 60mins
Substitutes
1Tatarusanu5Dalot7Castillejo Azuaga8Tonali9Mandzukic15Hauge17da Conceição Leão18Meité21Díaz33Krunic46Gabbia90A DonnarummaReferee:Fabio Maresca
Match Stats
Home TeamParmaAway TeamAC MilanPossessionHome59%Away41%ShotsHome16Away10Shots on TargetHome5Away5CornersHome7Away3FoulsHome13Away11
Live Text
Post update

Match ends, Parma 1, Milan 3.