President Biden recognises century-old massacres against Armenians as 'genocide'
3 min read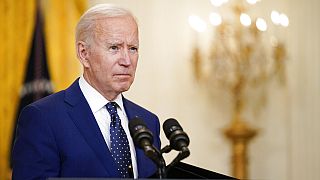 –
Copyright
Andrew Harnik/Copyright 2021 The Associated Press. All rights reserved
US President Joe Biden recognised the massacres of Armenians by the Ottoman Empire more than 100 years ago as "genocide" on Saturday.
It was a first for an American president and will likely raise tensions with Turkey.
"Beginning on April 24, 1915, with the arrest of Armenian intellectuals and community leaders in Constantinople by Ottoman authorities, one and a half million Armenians were deported, massacred, or marched to their deaths in a campaign of extermination," Biden said in a statement issued on Armenian Remembrance Day.
"The American people honour all those Armenians who perished in the genocide that began 106 years ago today."
Turkey's foreign ministry said in a statement that Biden's recognition of the massacres as a genocide was based on "political motives", adding that the US president has neither the "legal nor moral authority to judge historical matters."
The ministry said it would polarise people in the region and make "peace and stability" difficult.
Biden had informed Turkish President Recep Tayyip Erdogan of the decision in a call on Friday, according to AP.
The US and Turkish governments, in separate statements on the call, made no mention of the decision on the determination that the killings were a "genocide".
But the White House said Biden told Erdogan he wants to improve the two countries relationship and find "effective management of disagreements." The two also agreed to hold a bilateral meeting at the NATO summit in Brussels in June.
Armenia turmoil: PM says he's ready for early elections as political tensions riseArmenian Prime Minister confirms he will step down to allow electionJoe Biden 'preparing to formally recognise the Armenian genocide'
Biden had pledged as a candidate to recognise the World War I-era killings and deportations of hundreds of thousands of Armenians in modern-day Turkey. The announcement coincided with Armenian Remembrance Day.
Officials said Biden wanted to speak with Erdogan before formally recognising the events of 1915 to 1923 as genocide.
Past US presidents had avoided recognising the killings as "genocide" out of concern about damaging relations with Turkey.
Friday's call between the two leaders was the first since Biden took office more than three months ago.
Lawmakers and Armenian American activists have been lobbying Biden to make the genocide announcement on or before the Armenian remembrance day that presidents typically mark with a proclamation.
Salpi Ghazarian, director of the University of Southern California's Institute of Armenian Studies, said the recognition of genocide would resonate beyond Armenia as Biden insists that respect for human rights will be a central principle in his foreign policy.
"Within the United States and outside the United States, the American commitment to basic human values has been questioned now for decades," she said.
"It is very important for people in the world to continue to have the hope and the faith that America's aspirational values are still relevant, and that we can in fact to do several things at once. We can in fact carry on trade and other relations with countries while also calling out the fact that a government cannot get away with murdering its own citizens."
Turkey's foreign minister Mevlut Cavusoglu had warned the Biden administration earlier this week that recognition would "harm" US-Turkey ties.