Rangers want Uefa action after Glen Kamara allegedly racially abused by Slavia player
4 min read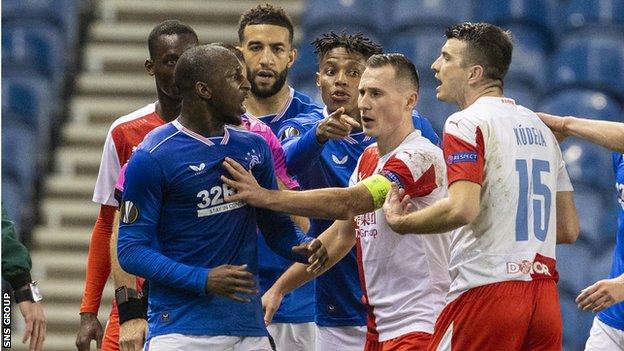 Rangers' players were left incensed by a comment made to Glen Kamara by Ondrej Kudela
Rangers are "not prepared for Glen Kamara to be yet another statistic" as they urge strong Uefa action over alleged racial abuse of the midfielder.
Slavia Prague's Ondrej Kudel said something to Kamara while covering his mouth amid a late melee in Rangers' Europa League home defeat on Thursday.
The Ibrox club say several players were racially abused online post-match.
In a statement, Slavia claimed Kudela admitted swearing at Kamara but denied the "disgusting accusation" of racism.
European governing body Uefa has confirmed that it will conduct an investigation into events at Ibrox.
Goldson fumes at 'token gestures' against racismSlavia end nine-man Rangers' Europa League hopesPodcast: 'Rangers can be proud of what they've done'
Rangers manager director Stewart Robertson says the club "refuse to acknowledge any attempt to defend, deflect or deny the abuse" experienced by Finland international Kamara.
A statement added: "The racist abuse suffered by Glen Kamara will not be tolerated by Rangers.
"This incident has been reported to the Uefa match delegate and we understand that it has formed part of his match report. Uefa will be well aware the football world is watching. We expect a robust and unequivocal response.
"It cannot be merely 'swept under the carpet'- we are not prepared for Glen Kamara to be yet another statistic. Enough is enough."
What did Gerrard say post-match?
Manager Steven Gerrard was left "angry and upset" after Kamara told him he was racially abused during the game, which Rangers lost 2-0 to exit at the last-16 stage 3-1 on aggregate.
Rangers players confronted Kudela and Gerrard got involved with his opposite number.
"My player tells me he was racially abused," the manager said. "The disappointing thing is that their people are trying to defend their player and calling us liars.
"I feel angry. I know Glen and trust him 100%. The Slavia player has caused this and something needs to happen quickly but that is above me. But whatever happens, I stand next to Glen.
"I don't even feel like talking about football just now. It's over to Uefa now."
Gerrard said that he asked Kamara at the side of the pitch if he wanted to continue or walk off.
"He said to me after the game he wasn't thinking straight," the Rangers manager explained. "He wanted to carry on, he was obviously very upset."
After the game, Gerrard was seen speaking with Slavia coach Jindrich Tripisovsky and Uefa delegates.
Asked about what he would like to see Uefa do about the incident, Gerrard said: "I think what I want to happen and what will happen will be different.
"Too much of this is still in the game. A lot of people are working extremely hard to eradicate it from the game. I feel angry and upset myself."
How did Slavia respond?
In their statement, Slavia added that Kudela was reacting to one of the "brutal tackles" the team faced, citing a facial injury suffered by goalkeeper Ondrej Kolar that led to Kemar Roofe being sent off.
Rangers finished the game with nine men and Slavia have since confirmed that Kolar suffered a fracture to his face.
"Slavia players faced an unprecedentedly malicious play from their opponents. They have never experienced such play in any game they participated in the modern history of the European competitions," read the statement.
"After the end of the game, the team was not allowed to enter the dressing room.
"Ondrej Kudela was assaulted by Kamara and hit with fists in the head with manager Steven Gerrard witnessing the incident," the statement claimed.
"Even the Uefa representatives who were also present on the site of the incident were shocked by this behaviour."
What are Uefa saying?
According to the association's regulations, any player or club employee found guilty of racial abuse "incurs a suspension lasting at least 10 matches or a specified period of time, or any other appropriate sanction".
However, there is also provision in the rules for further punishment "if the circumstances of the case require it". That can include playing behind closed doors, forfeiting a match, and disqualification from the competition.
A brief statement issued on Friday afternoon said an ethics and disciplinary inspector will examine the the various incidents.
What about the police?
Police Scotland say they have received "no reports of criminality" from either club, but Slavia have said they are "considering" action.
A spokesperson added: "Police Scotland has contacted club officials and assured them that should any allegation be received it will be investigated thoroughly."
Meanwhile, Kamara and Roofe were subjected to racial slurs on Instagram after the match.
Roofe shared the abusive messages and commented: "I could be up all night screenshotting all of these types of comments. @europaleague."