Rocket barrage fired at Israel after Hamas commanders killed
6 min read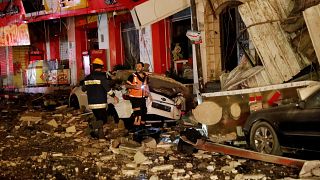 –
Copyright
Adel Hana/AP
Hamas militants fired a barrage of rockets at Israel on Wednesday evening after Israeli airstrikes brought down a tower housing important Hamas offices and killed several of their commanders.
In total, at least 70 people were killed since a new cycle of Israeli-Palestinian violence escalated into military conflict on Monday.
The death toll in Gaza rose Wednesday to 65 Palestinians, including 16 children and five women, according to the Health Ministry. At least 365 have been wounded.
Seven have been killed on the Israeli side by rocket fire, including three women and two children. One of them is a 6-year-old killed on Wednesday evening in a rocket strike on an apartment building in the city of Sderot.
The Israeli military said more than 1,000 rockets have been fired by Palestinian militants since Monday night, with 850 of them either intercepted by Israel's missile shield or falling on Israel, and 200 falling on the Palestinian side.
Palestinian militant group Hamas has confirmed that its Gaza City commander was killed in an Israeli airstrike on Wednesday.
Senior Hamas figures killed
Bassem Issa was the highest-ranking military figure in Hamas to be killed by Israel since 2014 and it marks the first time the militant group has acknowledged the death of one of its fighters during this latest round of fighting.
The armed wing of Hamas said Issa was killed "along with a few of his fellow brothers of leaders and holy fighters" during the fighting that has been going on for two days in Gaza.
The fighting between Israelis and Palestinians had already intensified on Tuesday night and into Wednesday, with civilians on both sides killed.
Just after daybreak, Israel hit Gaza City with dozens of airstrikes targeting police and security installations.
The country's military said it had killed at least 16 members of the Hamas armed wing in Gaza on Wednesday, while it said an Israeli soldier was killed by an anti-tank missile, according to Reuters.
After also confirming Issa's killing, Israeli Prime Minister Benjamin Netanyahu issued a warning, asserting that "this is just the beginning".
"We'll hit them like they've never dreamed possible," he said.
Iyad al-Bozum, a spokesman for the Hamas-run Interior Ministry, said airstrikes destroyed the central police headquarters in the city, a compound with several buildings.
Gaza militants continued to fire a barrage of rockets at the densely populated Tel Aviv metropolitan area in Israel, setting off air-raid sirens and explosions throughout the city.
Israeli-Palestinian clashes: How did we get here?
Calls for de-escalation grow
The international community has called on both sides to de-escalate the situation. United Nation's Secretary-General Antonio Gutteres said that he is "deeply saddened to learn of increasingly large numbers of casualties, including children, from Israeli airstrikes in Gaza, and of Israeli fatalities from rockets launched from Gaza.
He called on Israeli security forces to "exercise maximum restraint and calibrate their use of force" and said that the "indiscriminate launching of rockets and mortars towards Israeli population centres is unacceptable."
Washington has said it will be sending an envoy to try to bring calm to the situation.
On Tuesday, Anthony Blinken, the US secretary of state, had "expressed his concerns" and urged an end to the violence in a call with the Israeli foreign minister.
"The Secretary reiterated his call on all parties to deescalate tensions and to bring a halt to the violence," a statement from Washington said.
British Prime Minister Boris Johnson called on "Israel and the Palestinians to step back from the brink and for both sides to show restraint" in a tweet on Wednesday.
It is the fiercest fighting between the two sides since the 2014 war, and it shows no sign of slowing. During that bout of fighting, more than 2,100 Palestinians were killed, along with dozens of Israelis.
Netanyahu on Tuesday had vowed to expand the offensive.
In a nationally televised speech late on Tuesday, he said Hamas and Islamic Jihad "have paid and will pay a heavy price."
He said Israel will press ahead with an intensified operation but said "it will take time" to complete the mission.
Clashes in Jerusalem
On Monday, Hamas fired six rockets at Jerusalem, 100 kilometres away.
It set off air raid sirens throughout Jerusalem, and explosions could be heard in what was believed to be the first time the city had been targeted since the 2014 war.
The fighting came amid soaring tensions in the disputed city and follows days of clashes at the al-Aqsa mosque compound, the third holiest site of Islam and the holiest site of Judaism.
There are conflicting claims over Jerusalem, with rival religious and national narratives of Israelis and Palestinians rooted in the city.
More than 700 Palestinians were hurt in clashes with Israeli security forces in Jerusalem and across the West Bank in 24 hours, including nearly 500 who were treated at hospitals.
Netanyahu said that "terrorist organisations in Gaza have crossed a red line and attacked us with missiles in the outskirts of Jerusalem," adding "whoever attacks us will pay a heavy price."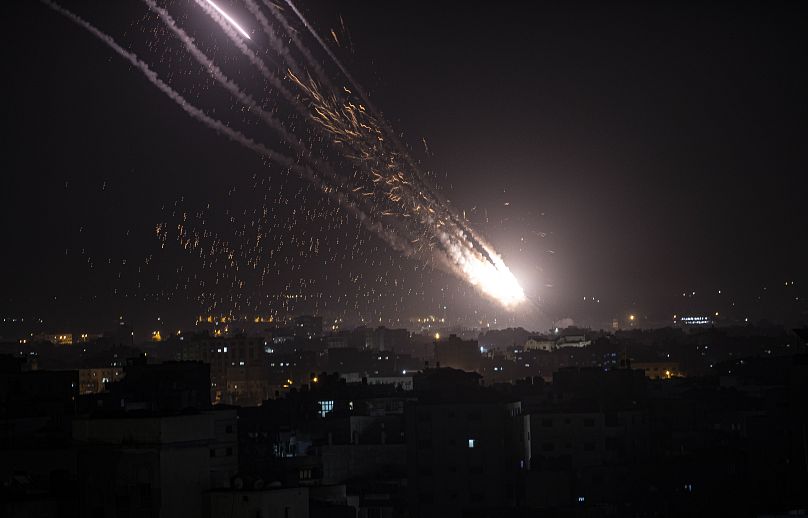 Rockets fired from Gaza towards Israel on MondayKhalil Hamra/AP
In a statement issued early on Tuesday, Hamas leader Ismail Haniyeh said the rocket attacks would continue until Israel stops "all scenes of terrorism and aggression in Jerusalem and Al-Aqsa mosque."
In Monday's unrest, Israeli police fired tear gas, stun grenades and rubber bullets in clashes with stone-throwing Palestinians at the compound.
More than a dozen tear gas canisters and stun grenades landed in the mosque as police and protesters faced off inside the walled compound that surrounds it.
Children victims of the violence
Mazen Naim, a communications officer for Save the Children who lives in Gaza, told Euronews on Wednesday morning the situation "is getting worse by the minute".
He said Israel had been targeting civilian buildings, and "for children to live through this is unacceptable."
"My children, I have never seen them this scared before in my life. They are always shivering, afraid, whenever they hear explosions they cry and run away," he said.
"This is what I'm feeling with my children and this is what all families in Gaza are feeling."
"Many families went to bed hugging their children and woke up this morning, at 6 am, with a huge bombardment of the Gaza strip," he told Good Morning Europe.
Violence in Lod described as 'civil war'
Another flashpoint has been the East Jerusalem neighbourhood of Sheikh Jarrah, where dozens of Palestinians are under threat of eviction by Jewish settlers.
Meanwhile, the violence has begun to spill over to other areas of Israel with mixed populations of Arabs and Jews.
In Lod, thousands of mourners joined a funeral for an Arab man killed by a suspected Jewish gunman the previous night.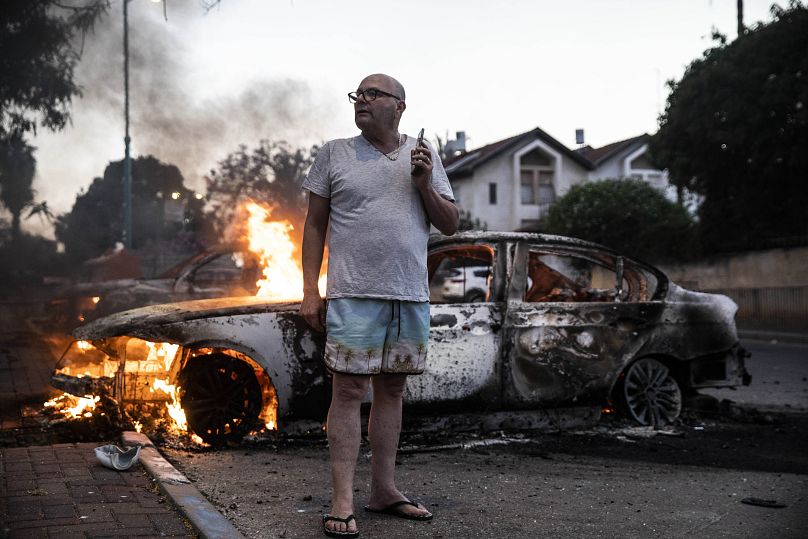 Jacob Simona stands by his burning car during clashes with Israeli Arabs and police in the Israeli mixed city of LodHeidi levine/AP
The crowd clashed with police and set a synagogue and around 30 vehicles, including a police car, on fire, Israeli media reported. Paramedics said a 56-year-old man was seriously hurt after his car was pelted with stones.
The city's mayor, Yair Revivo, described the situation in the mixed Jewish-Arab city as "civil war," and the government ordered the deployment of paramilitary border guards from the West Bank to Lod.
Israeli president Reuvin Rivlin said on Wednesday the sight of the 'pogrom' in Lod was "unforgivable."
"The silence of the Arab leadership about these disturbances is shameful" said Rivlin in a video statement addressing the Israeli public following the recent violent escalation.
In neighboring Ramle, ultra-nationalist Jewish demonstrators were filmed attacking cars belonging to Arabs.
In the northern port town of Acre, protesters torched a Jewish-owned restaurant and hotel. Police arrested dozens of others at Arab protests in other towns.
The UN Security Council planned to hold its second closed emergency meeting in three days on Wednesday, an indication of growing international concern.