The 149th Open: Bryson DeChambeau says Brooks Koepka Ryder Cup pairing would be 'funny'
5 min read
"I think we'd do well, to be honest. It would create a little interesting vibe for the team or for the guys we're playing against"; watch Bryson DeChambeau and Brooks Koepka in action at The 149th Open exclusively live this week on Sky Sports The Open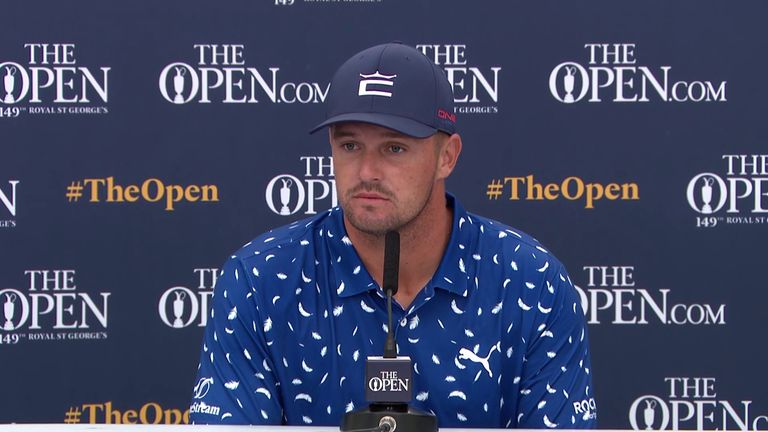 Bryson DeChambeau says he would 'love' to be paired with Brooks Koepka for the USA in the Ryder Cup in September despite their ongoing feud
Bryson DeChambeau has said it would be "funny" to be partnered with Brooks Koepka at the Ryder Cup despite the pair's ongoing feud.
The duo are set to feature in the United States team to take on Europe at Whistling Straits in September and DeChambeau believes they could perform well together in foursomes or fourballs despite the animosity between them.
DeChambeau, 27, was asked at his press conference ahead of The 149th Open if he would have any problems partnering Koepka and replied: "Oh, no, not at all. I think would be kind of funny actually.
"I think we'd do well, to be honest. It would create a little interesting vibe for the team or for the guys we're playing against."
GolfPass is now available on Sky Q – everything you need to knowThe Open is showcased on GolfPass on Sky Q this weekWin a VIP experience at the 150th Open with GolfPass
Koepka, who is also among the leading contenders at Royal St George's this week, appeared less enthusiastic about the prospect when he faced the media earlier on Tuesday.
"I'm not playing with him. I'm pretty sure we're not going to be paired together; put it that way. I think it's kind of obvious," he said.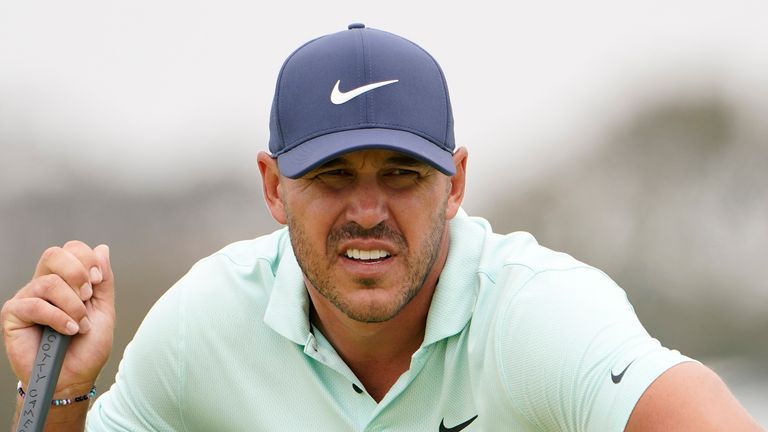 Koepka says he can 'put aside' his rivalry with DeChambeau when they play together for the USA in the Ryder Cup
However, Koepka insists he will have no issues spending the week on the same team as DeChambeau.
He added: "It's only a week. I can put it aside for business. If we're going to be on the same team, I can deal with anybody in the world for a week.
"It doesn't matter. We're not going to be high-fiving and having late-night conversations. I do my thing, he does his thing. Yeah, we're on the same team, but it's not an issue at all. I don't view it as an issue. I don't think he does.
"I can put anything aside for a team, business, whatever, just to get the job done. No problem with that."
First-round tee timesSecond-round tee times
Koepka's feud with DeChambeau dates back to 2019 when the former criticised the latter's slow play as "embarrassing", a comment to which DeChambeau took exception.
That led to an incident later that year at The Northern Trust tournament at Liberty National when DeChambeau confronted Koepka's caddie Ricky Elliott.
Four-time major winner Koepka said: "He didn't like that I had mentioned his name in slow play, so we had a conversation in the locker room, and then I guess we said something else in the press conference but didn't mention his name in it, and he walked up to Ricky and said 'You tell your man if he's got something to say, say it to myself'.
"I thought that was ironic because he went straight to Ricky. Ricky told me when I came out, hit a few putts, and then just walked right over to him, we had a conversation.
"We both agreed we'd leave each other out of it and wouldn't mention each other, just kind of let it die off, wouldn't mention each other's names, just go about it.
"So then he decided I guess he was going on that little, whatever, playing video games online or whatever and brought my name up and said a few things (about Koepka's physique), so now it's fair game."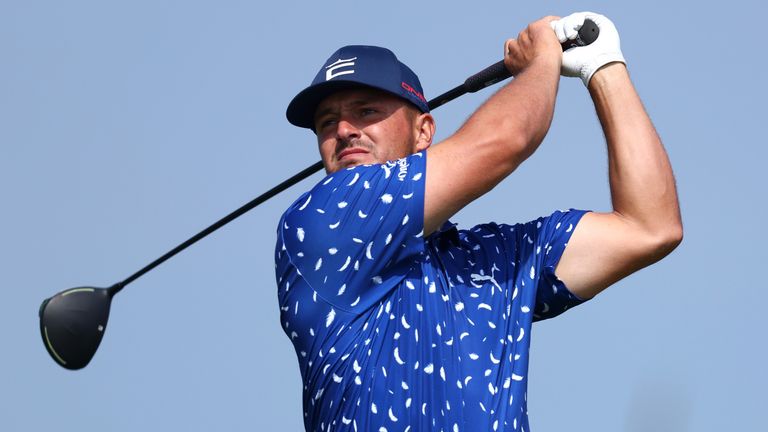 DeChambeau during Tuesday's practice round ahead of The Open
DeChambeau was then asked later on if he had broken the agreement to "let it die off" but refused to be drawn.
"He can say whatever he wants," said last year's US Open champion. "I think he said something back at Liberty National [about] not upholding something. I don't know what he's talking about in that regard. Maybe that's on me. Maybe I didn't. I really don't remember anything about that.
"We just had a conversation that I really don't know what happened, because we haven't really bantered back and forth until now, so it's like why is that happening now.
"Besides that, I'm just here to play golf and focus on that. If we want to keep bantering back and forth, obviously being respectful and keeping lines where they aren't getting crossed, yeah, I think it's fun and a good environment for people in golf."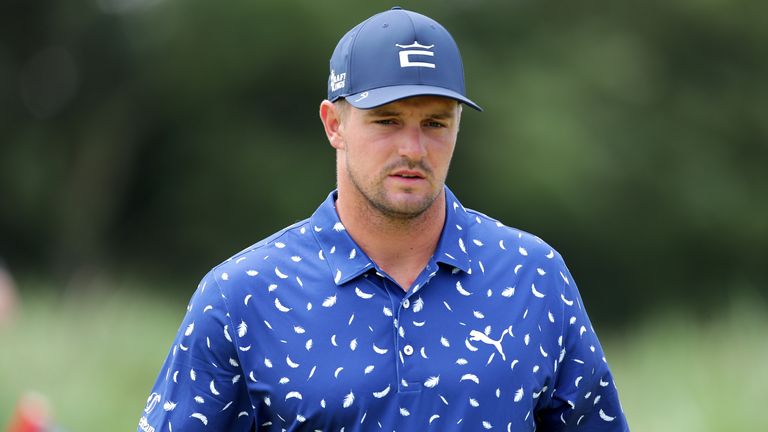 DeChambeau has missed the cut in two of his three previous Open appearances
As for his tactics this week, DeChambeau believes driving well and avoiding three-putts will be key factors at Royal St George's.
"It's pretty interesting, there are a certain amount of holes that you can kind of go after it on, and there's a couple that you can't," he said.
"If you hit it in the rough, in the hay, it's not easy to get out of. I hope I can hit it far enough to where I can wedge it out still onto the green if I get good enough lies, but there's certain lies out there it's going to be a pitch back to the fairway, and that's the same for everybody.
"If you're hitting it 300 off the tee and it goes into the hay, it's not easy to get to the green from there, either. I hope that the length will be a little bit of an advantage. I just have to drive it well.
"That's what I have to do this week, and the speed controlling the greens is going to be huge. If I don't three-putt this week, I'll have a pretty good chance going into Sunday."

Get the best prices and book a round at one of 1,700 courses across the UK & Ireland
location
Courses
View More Courses
Locations
View More Locations
No results found. Please try another search.
Search
Source