Tottenham 4-0 Sheffield United: Gareth Bale nets hat-trick in Spurs win
6 min read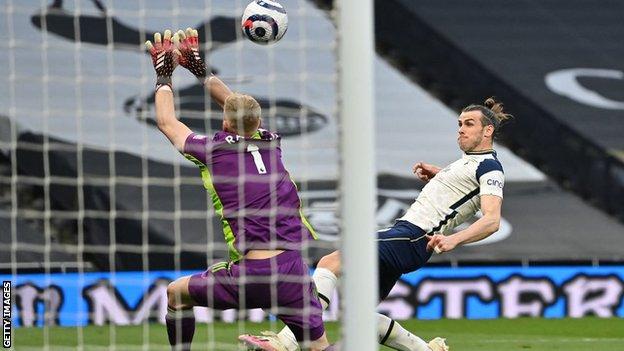 Gareth Bale has now scored 51 Premier League goals during his career
Gareth Bale's hat-trick gave Tottenham a comfortable victory over relegated Sheffield United as they maintained their pursuit of European football.
Bale flicked in the opener when it was lifted over the top by Serge Aurier before the right-back teed him up to thump in the third in the second half.
The Welsh international was played in by Son Heung-min on the break for his second – a thumping strike which flew into the top right corner.
Son rounded off a dominant Spurs performance when he curled in a superb fourth goal.
The South Korean also had a goal disallowed for offside five minutes into the second half.
Bale said he was "feeling good" after starting back-to-back Premier League games.
"You have to take your chances when they come," he said. "I just needed to play games and get a run of games and I'm doing that now. I'm happy and when I'm happy I play well."
Tottenham Hotspur 4-0 Sheffield United: Mason praises 'world class' Bale after Spurs' win
Spurs interim head coach Ryan Mason added: "I said all along Bale hasn't and won't lose that ability in the final third to produce moments of excellence. He's a world class player – he's proved that over many years.
"The most pleasing thing was his attitude; his running for the team. You feel confident he'll take the chances."
The result leaves Tottenham sitting five points off fourth place and the Champions League qualification spot with four games remaining.
Sheffield United, who were relegated on 17 April following defeat to Wolves, had one shot on target and were unable to test goalkeeper Hugo Lloris.
Bale sparkles in ruthless display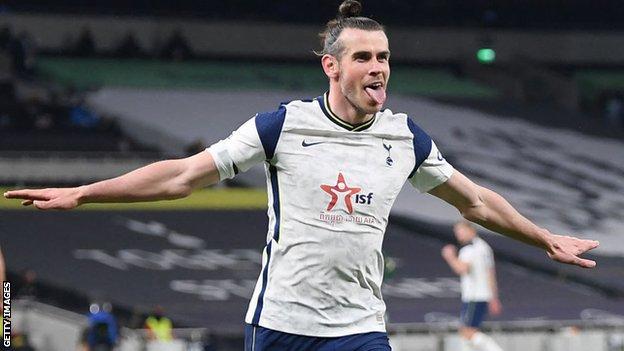 Gareth Bale became the first Welshman since Craig Bellamy in 2006 to score 50 Premier League goals
Bale's hat-trick was only his second in the Premier League and his first since December 2012 when he netted three against Aston Villa.
He was one of two changes to the Spurs starting line-up as interim manager Mason called up Bale and Dele Alli in place of Harry Winks and Lucas Moura.
Both gave good accounts of themselves – Alli showing sparkles of quality in the first half before fading in the second.
But it was Bale who stole the show, making a smart run in behind to poke in the opener before lashing in a powerful second after a swift break from Son down the right.
Aurier's pass for Bale's third was perfectly-weighted too and the Welshman drilled it into the bottom right corner to seal the hat-trick.
He celebrated at full-time with a beaming smile as he collected the match ball and he notched up another milestone by becoming the sixth Welshman to surpass 50 Premier League goals.
Bale returned to Spurs on a season-long loan from Real Madrid in September and when asked if he will extend his stay, Mason said: "I think that is a discussion once the season is done. Our priority is the next game."
Blades fail to trouble Spurs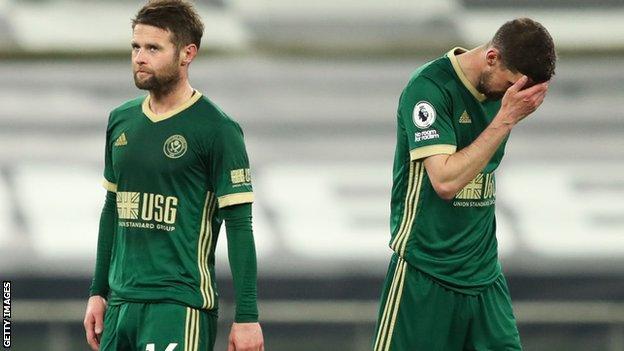 Sheffield United only conceded four or more goals in one Premier League game under Chris Wilder. They have done so twice under Paul Heckingbottom
Attention has already turned to next season for Sheffield United with relegation to the Championship confirmed a few weeks ago.
They were boosted by the return of Norwegian international Sander Berge, who came on as a substitute at half-time and helped the Blades find some balance in midfield.
John Fleck pushed up into a more advanced position and saw lots of the ball, but in truth, Sheffield United never showed enough firepower to get anything from the game.
David McGoldrick and Oliver Burke got in behind the defence on a few occasions but lacked the support needed to create any chances, while Sheffield United's first and only shot on target came in the 65th minute when Oliver Norwood struck it straight at Lloris.
The defeat means interim manager Paul Heckingbottom has seen his Sheffield United side concede 15 goals in his six Premier League games in charge.
Tottenham Hotspur 4-0 Sheffield United: Heckingbottom not happy with 'passive' performance
'Some of our play was outstanding' – what they said
Tottenham interim head coach Ryan Mason: "The attitude, the desire to compete and to keep competing over 95 minutes [was good]. We had some real moments of quality but the bravery to play in every duel, every action, is the most pleasing thing.
"We had a week where we could train and work on the players. We defended strongly as a team. Some of our play was absolutely outstanding."
Sheffield United caretaker manager Paul Heckingbottom: "We're putting it down to ourselves and how we perform. If we're always putting it down to the opposition then we're going to struggle.
"That is not a performance that we want to see. It was so passive and I can't wait until the fans are back in because in a stadium like this it's absolutely dead. We tried to generate our own atmosphere in the second half but the game ran away from us."
Bale feels at home – the best of the stats
Spurs have won five of their last six Premier League home games (L1), one more than they managed across their first 11 at the Tottenham Hotspur Stadium this season (W4 D3 L4). Sheffield United have lost 27 of their 34 Premier League games this season (W5, D2) – the most the Blades have ever lost in a single league campaign in their history.They have picked up just four points from a possible 51 available away from home this season.All nine of Bale's Premier League goals this season have come at the Tottenham Hotspur Stadium.Son (16 goals, 10 assists) joined Harry Kane and Bruno Fernandes as one of three Premier League players to both score and assist 10+ goals in the Premier League this season.
What's next?
Tottenham travel to Elland Road to face Leeds on Saturday, 8 May (12:30 BST kick-off), while Sheffield United are at home to Crystal Palace on the same day (15:00 BST).
Player of the match
BaleGareth Bale
with an average of 8.76TottenhamTottenham HotspurTottenham HotspurSheff UtdSheffield UnitedSheffield United
Tottenham Hotspur
Squad number9Player nameBaleAverage rating

8.76

Squad number7Player nameSon Heung-MinAverage rating

7.88

Squad number24Player nameAurierAverage rating

7.41

Squad number20Player nameAlliAverage rating

6.94

Squad number4Player nameAlderweireldAverage rating

6.83

Squad number10Player nameKaneAverage rating

6.79

Squad number5Player nameHøjbjergAverage rating

6.63

Squad number1Player nameLlorisAverage rating

6.57

Squad number3Player nameReguilónAverage rating

6.54

Squad number18Player nameLo CelsoAverage rating

6.45

Squad number15Player nameDierAverage rating

6.32

Squad number23Player nameBergwijnAverage rating

6.25

Squad number8Player nameWinksAverage rating

5.81

Squad number11Player nameLamelaAverage rating

5.80
Sheffield United
Squad number1Player nameRamsdaleAverage rating

5.50

Squad number17Player nameMcGoldrickAverage rating

5.26

Squad number23Player nameOsbornAverage rating

5.00

Squad number12Player nameEganAverage rating

4.87

Squad number2Player nameBaldockAverage rating

4.84

Squad number6Player nameBashamAverage rating

4.81

Squad number3Player nameStevensAverage rating

4.78

Squad number8Player nameBergeAverage rating

4.68

Squad number20Player nameBogleAverage rating

4.64

Squad number16Player nameNorwoodAverage rating

4.61

Squad number14Player nameBurkeAverage rating

4.42

Squad number4Player nameFleckAverage rating

4.40

Squad number24Player nameBrewsterAverage rating

4.34

Squad number11Player nameMoussetAverage rating

4.14
Line-upsMatch StatsLive Text
Line-ups
Tottenham
Formation 4-2-3-1
1Lloris24Aurier4Alderweireld15Dier3Reguilón18Lo Celso5Højbjerg9Bale20Alli7Son Heung-Min10Kane1Lloris24Aurier4Alderweireld15Dier3Reguilón18Lo CelsoSubstituted forWinksat 70'minutes5HøjbjergBooked at 88mins9BaleSubstituted forBergwijnat 75'minutes20AlliSubstituted forLamelaat 78'minutes7Son Heung-Min10Kane
Substitutes
2Doherty6D Sánchez8Winks11Lamela12Hart17Sissoko23Bergwijn27Lucas Moura28Ndombele
Sheff Utd
Formation 3-4-1-2
1Ramsdale2Baldock12Egan6Basham20Bogle16Norwood4Fleck3Stevens23Osborn17McGoldrick24Brewster1Ramsdale2Baldock12EganBooked at 18mins6Basham20BogleSubstituted forBergeat 45'minutes16Norwood4Fleck3Stevens23Osborn17McGoldrickSubstituted forMoussetat 83'minutes24BrewsterSubstituted forBurkeat 45'minutes
Substitutes
7Lundstram8Berge11Mousset13Lowe14Burke15Jagielka18Foderingham19Robinson33GordonReferee:Andre Marriner
Match Stats
Home TeamTottenhamAway TeamSheff UtdPossessionHome66%Away34%ShotsHome20Away8Shots on TargetHome11Away1CornersHome6Away6FoulsHome8Away9
Live Text
Post update

Match ends, Tottenham Hotspur 4, Sheffield United 0.