Tour de France 2021: Mark Cavendish equals Eddy Merckx's all-time record by claiming 34th stage victory
5 min read
Mark Cavendish wins stage 13 of the Tour de France, his fourth victory in this year's race and his 34rd overall; Manx rider equals Eddy Merckx's all-time record of 34 Tour stage wins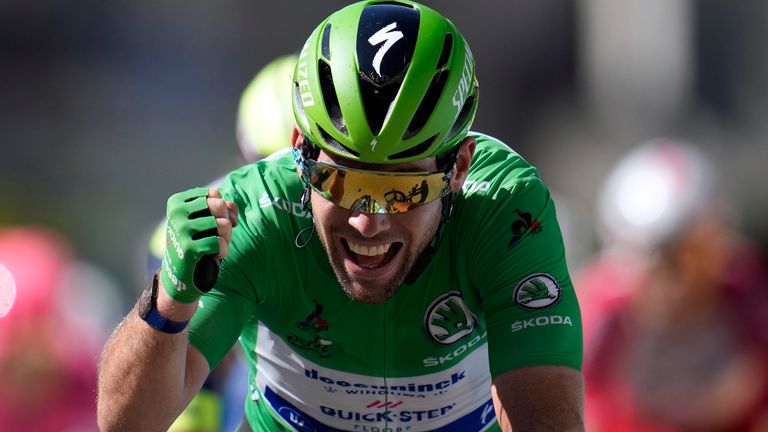 Mark Cavendish won his fourth stage of the 2021 Tour de France
Mark Cavendish matched the Tour de France stage wins record as he collected the 34th of his career in Carcassonne.
Cavendish moved level with Eddy Merckx as he took victory ahead of his own lead-out man Michael Morkov, with Jasper Philipsen third at the end of the 220km stage 13 from Nimes, giving Cavendish his fourth win of this year's Tour.
The 36-year-old has enjoyed a remarkable return to form and capitalised on an unexpected selection for Deceuninck-QuickStep squad, winning his first stages in the race since 2016.
Cavendish moves level with the Belgian Merckx, a five-time overall winner of the Tour, who took the last of his stage wins in 1975.
If he can stay safe through the mountain stages to come, the Manxman should have two more opportunities to take the record outright, first on stage 19 into Libourne and then on the final day on the Champs-Elysees in Paris.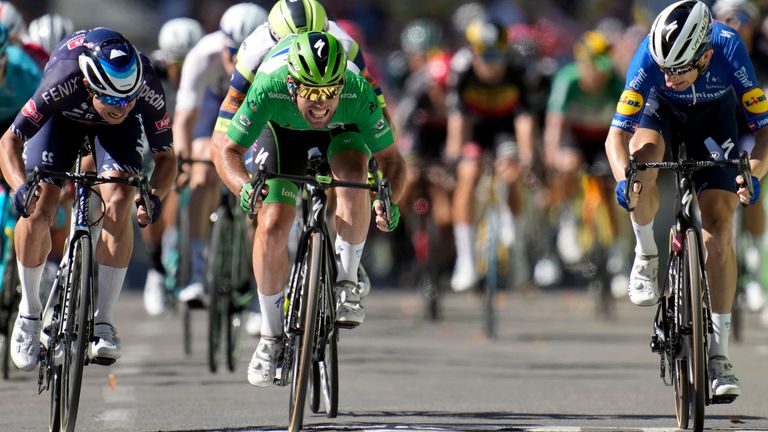 Cavendish produced a brilliant sprint finish to win stage 13
Friday's stage had been tipped for a breakaway – Carcassonne, hosting a stage for the 11th time, had never previously seen a sprint finish – but Cavendish's Deceuninck-QuickStep team worked well to mark the early moves before allowing a three-man move to get up the road.
The race came back together later on – a tense finish marked by a significant crash with 65km to go – but Cavendish's team-mates bossed the road in the citadel to position him for victory.
Philipsen tried to come around the outside inside the final 100 metres, but Cavendish once again proved the strongest to extend his advantage in the points leader's green jersey.
Cavendish looked exhausted as he collapsed to the floor after the finish before being mobbed by his team-mates.
"I went so deep there," he said. "The boys were incredible. I can't believe it. A lot of the day it didn't feel like it (was going to happen) but it had to happen because I had the guys riding like they were.
"I was so on the limit there."
Asked about the record again, he added: "I haven't realised it. It's still just another win on the Tour de France. It's like my first one. I've won a stage of the Tour de France. It's what I dreamed of as a kid and it's what I dream of now.
"I've worked so hard for it. We've seen such a growth, especially in the UK, of cycling since I've started racing here at the Tour de France.
"If any one of my wins can inspire the kids to ride the Tour de France or the Tour de France Femmes from next year when they grow up, that's what means the most to me I think."
On Thursday, Cavendish said Marianne Vos "has been an inspiration on so many levels" after she won a 30th career stage victory at the Giro d'Italia Donne.
Cavendish said on Instagram: "Until we finally have the privilege of @letourfemmes next year, the Giro d'Italia Donne is the greatest stage race for our female colleagues.
"And @mariannevosofficial has just won her 30th stage of the race. This NEEDS to be big news. 30 is such a milestone.
"She's been my inspiration on so many levels, for so many years. The absolute GOAT."
Merckx vs Cavendish: How the two Tour greats' stats stack up
Stage wins
Eddy Merckx's record of 34 had stood since 1975, when he claimed his last two stage wins on his penultimate appearance in the race.
Cavendish had long looked on course to challenge that mark, reaching 30 during the 2016 Tour, but was winless for the following two years and had not ridden in the event since – he was only added to Deceuninck-Quickstep's team this year as a late replacement for the injured Sam Bennett.
He has taken full advantage of that chance, winning stages four, six, 10 and 13 to move level with Merckx in the all-time standings.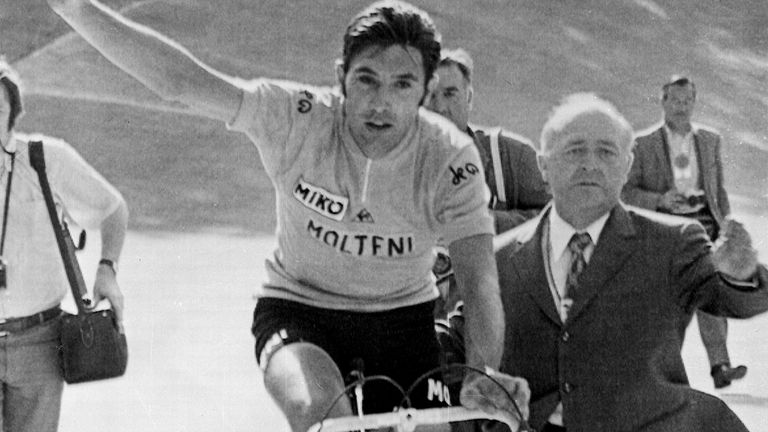 Eddy Merckx is viewed among the Tour's all-time greats
Merckx got there slightly quicker, with Cavendish competing in his 13th Tour compared to only seven for Merckx – though the Manxman has contested only eight more stages, winning 34 out of 193 for a strike rate of better than one in six.
His best year came in 2009 with six stage wins – two short of Merckx's all-time record of eight in both 1970 and 1974, which is tied with Charles Pelissier (1930) and Freddy Maertens (1976) atop the list.
Merckx also won six stages on two other occasions while Cavendish won five each in 2010 and 2011 and four in 2008 and 2016, as well as this year so far. Three in 2012, two the following year and one in 2015 complete his set.
The next rider on the list of stage wins is Bernard Hinault, with 28 between 1978 and 1986 including seven in 1979. Andre Leducq (25), Andre Darrigade (22) and Nicolas Frantz (20) are the only other riders to reach 20.
Jerseys
The contents of Merckx's wardrobe, though, are what truly set him apart from Cavendish.
While the British rider finished with the green jersey in 2011 – and leads the points standings again this year – Merckx was a serial winner and is viewed among the Tour's all-time greats.
On his debut in 1969, the Belgian won the yellow jersey as the overall race winner, the green as top sprinter and the King of the Mountains and combination classifications as well as the combativity award – he remains the only rider ever to sweep the major classifications.
He went on to win the yellow jersey in his first five Tour appearances up to 1974, opting not to compete in 1973, and added further green jerseys in 1971 and 1972 and the 1970 mountains classification.
Even on his two remaining appearances, he finished second and sixth in the general classification – Cavendish, for all his sprint pedigree including three runner-up finishes in the points, has never finished in the top 100 overall and has completed only six of his 12 Tours before this year.