Wales 1-0 Mexico: Kieffer Moore strikes as Chris Gunter wins 100th cap
3 min read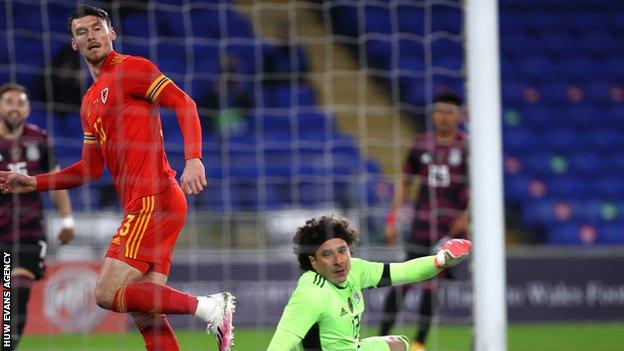 Kieffer Moore scores his fifth goal in 14 games for Wales
A much-changed Wales side marked Chris Gunter's 100th cap with a friendly victory over Mexico.
Resting their first-choice players for Tuesday's World Cup qualifier against the Czech Republic, Wales struck an early winning goal thanks to Kieffer Moore's nonchalant finish.
Mexico controlled the game for large periods but created few chances.
Their best opportunity fell to Hirving Lozano in the second half but he was denied by Wayne Hennessey.
Considering how experimental and inexperienced a line-up Wales selected, this was a commendable result against a strong Mexican team ranked ninth in the world.
And more than that, it was at least some form of a tribute to Gunter, who could not celebrate his milestone with his adoring supporters at an empty Cardiff City Stadium.
The 31-year-old is the first male player to earn 100 caps for Wales and, although he is a modest character who tends to shun the limelight, his moment will come when he is able to mark his achievement with the fans who view him as one of their own.
Wales v Mexico: As it happened
Gunter's landmark gave the fixture a sense of significance it might otherwise have lacked, even by the standards of often-maligned friendlies.
Squeezed between two important World Cup qualifiers, the timing of this game was a little inconvenient for Wales.
Caretaker manager Robert Page said beforehand he would select a team with Tuesday's match against the Czech Republic in mind, and he delivered with a line-up showing a full 11 changes from Wales' opening qualifying defeat in Belgium on Wednesday.
It was a callow team of just 293 caps – 193 of which came from Gunter and Hennessey – and in stark contrast to a Mexico side boasting 615.
Some Welsh changes in particular raised eyebrows, with midfielder Jonny Williams and forward Tom Lawrence unexpectedly selected as wing-backs.
And although Mexico dictated the tempo and bossed possession from the outset, it was their opponents who struck the only goal.
It was a well-worked goal, with Williams finding space in more familiar territory inside the penalty area and crossing low to Moore, who controlled the ball before swiftly and nonchalantly rolling it into the bottom corner.
That was Wales' only real attack of the first half, though they did well to limit a dangerous Mexican side to very few sights on goal.
Jesus Corona beat Ben Cabango and shot wide before Napoli forward Lozano saw an effort saved by Hennessey, but Mexico seldom clicked into top gear despite their masses of possession.
They were a little more incisive in the second half, creating an excellent opening for Lozano, whose low shot was well blocked by Hennessey.
Orbelin Pineda also went close with a 20-yard strike wide, but Wales did not simply sit on their lead as substitute Josh Sheehan came within inches of a spectacular first international goal as his half-volley whistled just past the post.
Perhaps the most pleasing aspect of Wales' performance was their defensive resilience in keeping out opponents whose only defeat in their previous 22 games had come against Argentina in 2019.
And considering this was a match which will be remembered as the one in which Gunter reached his century, it seemed fitting that the defender could mark the occasion with a clean sheet.
Line-upsMatch StatsLive Text
Line-ups
Wales
Formation 3-4-2-1
1Hennessey2Gunter5Cabango4Norrington-Davies8Williams10Levitt19Smith7Lawrence18Roberts17Matondo13Moore1Hennessey2Gunter5Cabango4Norrington-Davies8WilliamsSubstituted forRobertsat 86'minutes10LevittSubstituted forSheehanat 45'minutes19Smith7LawrenceSubstituted forN Williamsat 65'minutes18RobertsSubstituted forJohnsonat 65'minutes17MatondoSubstituted forBaleat 81'minutes13MooreSubstituted forRobson-Kanuat 45'minutes
Substitutes
3N Williams6Rodon9Robson-Kanu11Bale12Davies14Roberts15Ampadu16Morrell20Sheehan21King22Cooper23Johnson
Mexico
Formation 4-2-3-1
13Ochoa21Rodríguez19Montes3Salcedo23Gallardo16Herrera4Álvarez17JM Corona7Pineda18Guardado22Lozano13Ochoa21RodríguezSubstituted forPizarroat 61'minutes19Montes3Salcedo23GallardoSubstituted forArteagaat 79'minutes16Herrera4ÁlvarezSubstituted forLainezat 83'minutes17JM Corona7PinedaSubstituted forJ dos Santosat 78'minutes18GuardadoSubstituted forSánchezat 62'minutes22Lozano
Substitutes
1Talavera5Romo6J dos Santos8Sánchez9Pulido10Pizarro11Lainez12Orozco14Gutiérrez15Moreno20Arteaga26ÁlvarezReferee:Ian McNabb
Match Stats
Home TeamWalesAway TeamMexicoPossessionHome24%Away76%ShotsHome4Away9Shots on TargetHome1Away3CornersHome4Away4FoulsHome12Away17
Live Text
Post update

Match ends, Wales 1, Mexico 0.