Wimbledon 2021: Alfie Hewett & Gordon Reid win fourth men's wheelchair doubles title
5 min read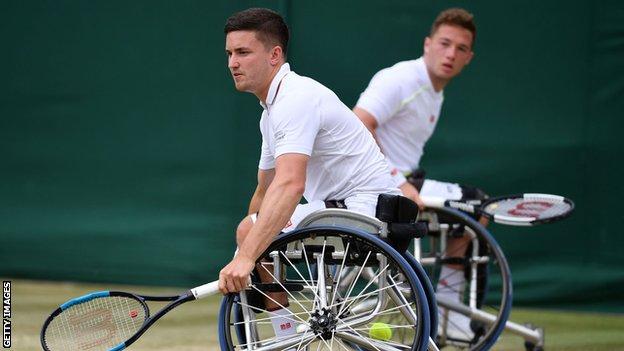 Hewett and Reid also won the 2021 Australian Open and French Open titles
Wimbledon 2021 on the BBC
Venue: All England Club Dates: 28 June-11 July
Coverage: Live across BBC TV, radio and online with extensive coverage on BBC iPlayer, Red Button, Connected TVs and mobile app. Full details here
British pair Alfie Hewett and Gordon Reid have won a fourth Wimbledon men's wheelchair doubles title, beating the Netherlands' Tom Egberink and Belgium's Joachim Gerard 7-5 6-2.
Hewett, 23, and Reid, 29, took an early lead in both sets, edging a tight first set before a more commanding performance in the second.
The top seeds claimed their 12th Grand Slam title as a pairing.
Hewett said: "To get our fourth title is something we're really happy about."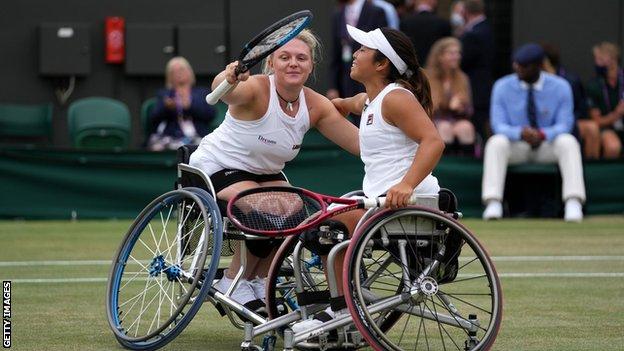 Jordanne Whiley and Yui Kamiji win a fifth Wimbledon title
There was further success for Britain's Jordanne Whiley, partnering Japan's Yui Kamiji in the women's wheelchair doubles, winning a fifth Wimbledon title together, and their 12th as a pairing.
They beat South Africa's Kgothatso Montjane and fellow Briton Lucy Shuker 6-0 7-6 (7-0), dominating in the first set and running away with the second-set tie-break.
Whiley said: "It's such a special tournament for both of us. I know it's difficult because there's two Brits and you want us both to win."
Australian Dylan Alcott sealed a second Wimbledon quad wheelchair singles title with a 6-2 6-2 win over Sam Schroder of the Netherlands.
Live scores, results and order of playAlerts: Get tennis news sent to your phone

30 Animals That Made Us Smarter: The robotic arm that was inspired by elephantsIs there such thing as a perfect penalty? Can science help footballers shoot the perfect shot?commentsView Comments34
Comments
Join the conversation
To use comments you will need to have JavaScript enabled.
34 commentsShowLatestOldestHighest RatedMost RepliedJ
Comment posted by John Jones, today at 11:20John Jones
11:20Well done to these fine athletes00P
Comment posted by phil easton, today at 10:44phil easton
10:44Alfie Hewett's disability is under investigation that he may have an unfair advantage over his competitors, he competes in a wheelchair for gods sake, do you think that he uses a wheelchair for fun, shame on whoever is responsible for this investigation. Please correct me if I have this story wrong !!!!!!!!11W
Comment posted by Wren, today at 10:16Wren
10:16Congratulations guys.heck of an achievement.01M
Comment posted by mark, today at 08:50mark
08:50Well done. Do we get a bank holiday now?22J
Comment posted by JARK, today at 08:07JARK
08:07Well done to you both!🇬🇧31S
Comment posted by sparetyre, today at 00:46sparetyre
00:46I'm not a tennis fan, and to be honest I'm somewhat annoyed that BBC coverage means I'm missing Doctors and Pointless, but it's great to read of British success in any sport, even if it's not one I follow. Congratulations to Alfie Hewett, Gordon Reid and Jordanne Whiley.41J
Reply posted by JARK, today at 08:06JARK
08:06to sparetyre"I'm not a tennis fan, and to be honest I'm somewhat annoyed that BBC coverage means I'm missing Doctors and Pointless, but it's great to read of British success in any sport, even if it's not one I follow. Congratulations to Alfie Hewett, Gordon Reid and Jordanne Whiley."JARK replied: You can always watch your programme on iplayer or record it.12More replies (1)downS
Comment posted by Sycamorey, today at 00:26Sycamorey
00:26Brilliant match!

Why don't they get equality with the main draw? Paid less than a first round loser.

Without doubles, wheelchair and kids there would only be one match Saturday and one on Sunday. Tickets would have to be much cheaper.

Come on Grand Slam committees….you keep SAYING you have equality… now DO IT

Round for round pay should be same for singles, doubles and wheelchair.202M
Comment posted by Mido12, at 22:30 10 JulMido12
22:30 10 JulContratulations!51J
Comment posted by james, at 22:12 10 Juljames
22:12 10 JulEpic stuff!!! Congrats 👍👍👍71J
Comment posted by Jacks Sock, at 22:09 10 JulJacks Sock
22:09 10 JulVery well done!61A
Comment posted by a_b_manyowa, at 21:52 10 Jula_b_manyowa
21:52 10 JulWell done lads 🏆71D
Comment posted by Dad, at 21:39 10 JulDad
21:39 10 JulWhy no clips ?61B
Comment posted by Bethnby, at 21:35 10 JulBethnby
21:35 10 JulWell done Alfie and Gordon!101L
Comment posted by lancsbob, at 21:21 10 Jullancsbob
21:21 10 JulFantastic result!81P
Comment posted by Paul Driscoll, at 21:13 10 JulPaul Driscoll
21:13 10 JulVery well done gentlemen very well done141B
Comment posted by bracken, at 21:07 10 Julbracken
21:07 10 JulWell done guys. Lots of training and commitment and you've got a great result141S
Comment posted by seymour, at 20:40 10 Julseymour
20:40 10 Jul🤦🏻‍♂️03G
Comment posted by Grommit, at 20:14 10 JulGrommit
20:14 10 JulAlthough I hate tennis, it's nice to see 2 Brits winning, instead of losing n blaming an injury, or "falling ill" because they're losing. At least the telly will get back to normal now.917Removed commentMore replies (3)downW
Comment posted by whyisstephmcgovernstaringatme, at 19:37 10 Julwhyisstephmcgovernstaringatme
19:37 10 Jul12 Grand Slam events won (not 12 Grand Slams, come on BBC must try better) including 4 Wimbledons.

Yet it's the BBC's darling Andy Murray with 3 measily grand slam events won that has 2 SPOTY awards and a knighthood. There is no justice in the world.730J
Reply posted by Jacks Sock, at 22:08 10 JulJacks Sock
22:08 10 Julto whyisstephmcgovernstaringatme"12 Grand Slam events won (not 12 Grand Slams, come on BBC must try better) including 4 Wimbledons.Yet it's the BBC's darling Andy Murray with 3 measily grand slam events won that has 2 SPOTY awards and a knighthood. There is no justice in the world."Jacks Sock replied: No such thing as a 'measly' slam.81S
Comment posted by specificnotpacific, at 19:01 10 Julspecificnotpacific
19:01 10 JulAnother one to add to the collection! Great for British sport. Should be on a show court, as should the fabulous quad final yesterday.183More commentsBack to topunknown
Source