Wolverhampton Wanderers 1-0 Sheffield United: Blades relegated after defeat
7 min read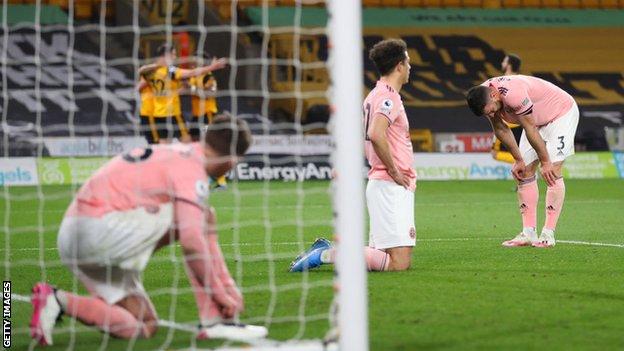 Defeat was Sheffield United's 26th in the Premier League this season
Sheffield United were relegated to the Championship after Willian Jose's first goal for Wolves secured victory.
The visitors knew, following Newcastle's win over West Ham earlier on Saturday, that they had to avoid defeat at Molineux to delay their inevitable demotion for a few days.
But it was Wolves who edged a poor game of few chances, when they broke downfield after Enda Stevens' shot had been blocked. Adama Traore created room close to the goalline and delivered a low cross into the six-yard box, which Jose swept home.
It broke the Brazilian's Wolves duck in his 11th game for the club, having signed on loan from Real Sociedad in January.
The Blades tried to respond and Stevens brought an excellent save from Rui Patricio with a powerful shot from an angle.
However, there was no preventing a relegation that has seemed certain since an abysmal start to the season brought just one point from their opening 13 games.
And at the final whistle, a number of Blades players dropped to their haunches.
Sheffield United's relegation came on the same day that Norwich's immediate return to the Premier League was confirmed.
Interim Blades boss Paul Heckingbottom believes the club should follow the Canaries' example and keep as much of the squad together as possible.
Sheffield United caretaker manager Paul Heckingbottom speaks on the mood of his players
"It has to be the goal to come straight back," he said.
"This incredible journey started in League One. Look at Norwich, Watford, Bournemouth, who are doing well after they got relegated last season. Keeping the group together has to be a priority."
Sad but inevitable end for Blades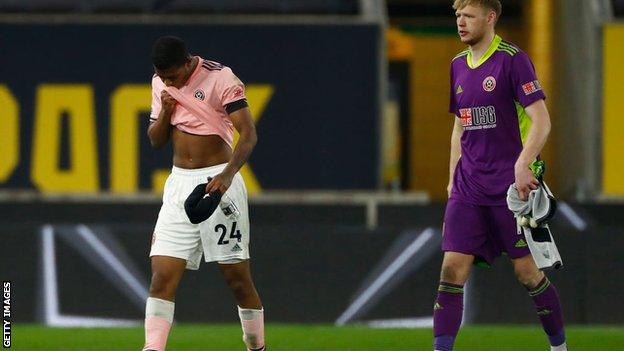 Sheffield United are the first team to finish as high as ninth in the Premier League and be relegated the following season since Birmingham City (ninth in 2009-10, relegated in 2010-11).
If it was a night to celebrate for the Wolves goalscorer, there was only more frustration for Rhian Brewster.
The 21-year-old arrived amid much expectation from Liverpool at the start of the season but the £23.5m striker is yet to score for the Blades.
He never looked like doing so in this game, although in fairness to Brewster, the service he received was inadequate.
It can only be hoped his and Sheffield United's confidence can be restored by dropping down a level. Norwich's promotion back to the top flight on Saturday – a year after they were relegated – underlines the potential for clubs going down to return at the first opportunity.
Evidently, there are issues that need to be addressed at Bramall Lane.
Heckingbottom has presided over four successive Premier League defeats since replacing Chris Wilder last month. His team have only scored once in that time.
Indeed, Sheffield United are still one goal short of matching the all-time lowest tally in an English league season – with Loughborough scoring just 18 times in the second tier in 1899-1900.
They are also still three short of matching Derby's total of 20 goals from their 2007-08 campaign, which is the fewest in Premier League history.
On Friday, chairman Prince Musaad Bin Khalid Al Saud announced he was standing down, leaving another key role needing to be filled. The resolve of owner Prince Abdullah bin Mosa'ad bin Abdulaziz Al Saud to drive the rebuild will be tested over the coming months.
If there is any consolation from a chronic campaign for Sheffield United fans, it can be found in the difficulties of their great rivals from across the city.
Sheffield Wednesday are also mired in relegation trouble and the Steel City is bracing itself for both senior clubs going down in the same season for the first time.
"There's a lot of hurt in that dressing room," added Heckingbottom. "That game encapsulates our season.
"Everyone knows and we have to look forward. We have to behave in the correct way, on and off the pitch. Careers are at stake. The fight is there but we have come up short."
Jimenez a big miss for Wolves
Between them, Wolves and Sheffield United had failed to score in the first half of 47 league games before this meeting, so perhaps it was no surprise the opening period ended goalless.
There was an element of fortune about the only time either side even threatened to break the deadlock before half-time.
Wolves manager Nuno Espirito Santo speaks of his admiration for relegated Sheffield United
Willy Boly seemed to get the ball trapped between his legs following Willian Jose's neat chest control and backheeled it to clear it away. By chance, the manoeuvre sent the ball looping towards goal and had Oliver Norwood not dropped back to the goalline and been perfectly placed to head away, it would have gone in.
The lack of goal threat from Wolves merely underlined how badly Mexican forward Raul Jimenez has been missed since he fractured his skull at Arsenal in November.
Willian Jose received a slap on the back from his manager when he was replaced 12 minutes from time but the 29-year-old is no replacement for Jimenez, who was inspirational in successive seventh-placed finishes for Wolves.
"Willian works very hard for the team," said Nuno.
"He works a lot between the lines. The goal was missing, but today he got the goal and we go from there. The obligation of goalscoring is not just with the strikers."
A top-half finish is the only target they have to aim for now and even that will take some work given Wolves are four points adrift of Arsenal and Leeds, having played a game more.
Still, there were a couple of milestones to cheer for Wolves, who have achieved back-to-back wins for the third time this season and achieved a top-flight double over their opponents for the first time since 1964-65.
And strangely, all Wolves' six home wins this season have come against teams from London and Yorkshire.
A record-equalling defeat – the stats
With six games remaining, Sheffield United have suffered the joint-earliest relegation in Premier League history, alongside Ipswich Town (1994-95), Derby County (2007-08) and Huddersfield Town (2018-19).Only Sunderland in 2005-06 and Derby in 2007-08 (11 points each) have had fewer points on the board after 32 games in a Premier League season than Sheffield United this term (14).Wolves have secured their first league double over Sheffield United since the 2013-14 League One campaign. Sheffield United have equalled their record number of league defeats in a single season (26 – also in 1975-76 and 2010-11), while the Blades have lost 16 Premier League games by a single goal this season, the most one-goal defeats in a single top-flight campaign since Ipswich Town in 1985-86 (also 16).After a run of 35 Premier League games without a goal or assist, Adama Traore has now scored (one) or assisted (two) a goal in each of his last three games in the competition.
What next?
Wolves are next in action on Sunday, 25 April, when they entertain Burnley (12:00 BST). Sheffield United entertain Brighton on Saturday, 24 April (20:00 BST).
Player of the match
TraoréAdama Traoré
with an average of 6.82WolvesWolverhampton WanderersWolverhampton WanderersSheff UtdSheffield UnitedSheffield United
Wolverhampton Wanderers
Squad number37Player nameTraoréAverage rating

6.82

Squad number12Player nameWillian JoséAverage rating

6.79

Squad number11Player nameRui PatrícioAverage rating

6.63

Squad number22Player nameNélson SemedoAverage rating

6.60

Squad number3Player nameAït-NouriAverage rating

6.51

Squad number16Player nameCoadyAverage rating

6.50

Squad number15Player nameBolyAverage rating

6.45

Squad number28Player nameJoão MoutinhoAverage rating

6.45

Squad number32Player nameDendonckerAverage rating

6.25

Squad number17Player nameFábio SilvaAverage rating

6.16

Squad number27Player nameSaïssAverage rating

6.14

Squad number20Player nameVitinhaAverage rating

6.03

Squad number10Player nameDaniel PodenceAverage rating

5.92
Sheffield United
Squad number1Player nameRamsdaleAverage rating

5.52

Squad number17Player nameMcGoldrickAverage rating

5.25

Squad number4Player nameFleckAverage rating

5.17

Squad number12Player nameEganAverage rating

5.15

Squad number23Player nameOsbornAverage rating

5.13

Squad number3Player nameStevensAverage rating

5.11

Squad number2Player nameBaldockAverage rating

5.07

Squad number29Player nameBryanAverage rating

4.88

Squad number16Player nameNorwoodAverage rating

4.85

Squad number20Player nameBogleAverage rating

4.73

Squad number14Player nameBurkeAverage rating

4.71

Squad number22Player nameAmpaduAverage rating

4.57

Squad number24Player nameBrewsterAverage rating

4.57

Squad number11Player nameMoussetAverage rating

4.20
Line-upsMatch StatsLive Text
Line-ups
Wolves
Formation 3-4-2-1
11Rui Patrício27Saïss16Coady15Boly22Nélson Semedo32Dendoncker28João Moutinho3Aït-Nouri37Traoré10Podence12Da Silva11Rui Patrício27Saïss16Coady15Boly22Nélson Semedo32Dendoncker28João Moutinho3Aït-Nouri37Traoré10PodenceBooked at 71minsSubstituted forVitinhaat 72'minutes12Da SilvaSubstituted forFábio Silvaat 77'minutes
Substitutes
2Hoever17Fábio Silva18Gibbs-White20Vitinha21Ruddy42Richards49Kilman54Otasowie60Corbeanu
Sheff Utd
Formation 3-5-2
1Ramsdale22Ampadu12Egan29Bryan2Baldock23Osborn16Norwood4Fleck3Stevens24Brewster17McGoldrick1Ramsdale22AmpaduSubstituted forBogleat 83'minutes12Egan29Bryan2Baldock23OsbornSubstituted forMoussetat 75'minutes16Norwood4Fleck3StevensBooked at 82mins24BrewsterBooked at 36minsSubstituted forBurkeat 75'minutes17McGoldrick
Substitutes
7Lundstram11Mousset13Lowe14Burke15Jagielka18Foderingham20Bogle31Brunt33GordonReferee:Robert Jones
Match Stats
Home TeamWolvesAway TeamSheff UtdPossessionHome47%Away53%ShotsHome10Away8Shots on TargetHome5Away2CornersHome3Away3FoulsHome8Away15
Live Text
Post update

Match ends, Wolverhampton Wanderers 1, Sheffield United 0.